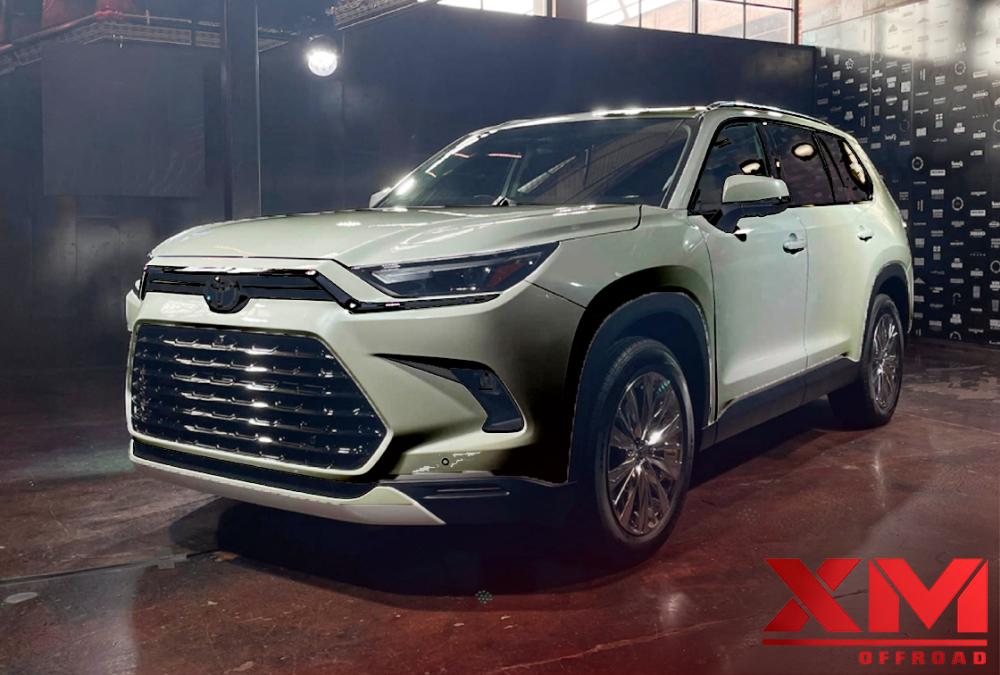 A Closer Look at the 2024 Toyota Grand Highlander: Toyota's Largest 3-Row SUV Yet
The Toyota Grand Highlander has long been a favorite among families seeking a spacious and reliable SUV. Now, Toyota has upped the ante with the 2024 model, introducing their biggest 3-row SUV to date. In this comprehensive review, we will delve into the key features and advantages of the 2024 Toyota Grand Highlander, providing you with valuable insights to make an informed decision.
Exterior Design:
The 2024 Toyota Grand Highlander boasts a striking exterior design that commands attention on the road. With its bold lines, sculpted body, and aerodynamic profile, this SUV exudes confidence and modernity.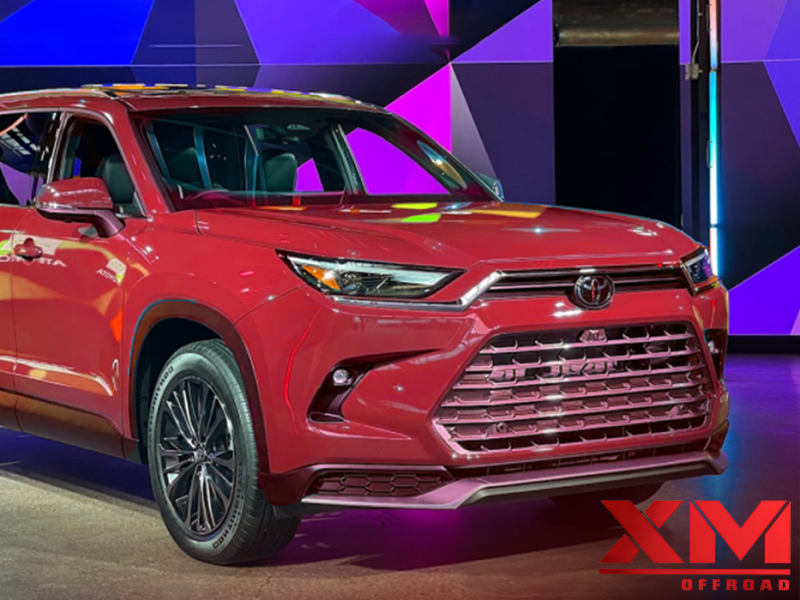 The front fascia showcases a prominent grille, complemented by sleek LED headlights and fog lights. The rear design features LED taillights that enhance visibility and leave a lasting impression. With its larger dimensions, the 2024 model offers even more presence on the road compared to its predecessors. Toyota has truly created a head-turning SUV with the Grand Highlander.
Interior Features and Comfort:
Step inside the 2024 Toyota Grand Highlander, and you'll be greeted by a spacious and luxurious cabin. With seating for up to eight passengers, this SUV is perfect for larger families or those who require ample passenger space. High-quality materials and meticulous craftsmanship are evident throughout the interior, providing a premium feel.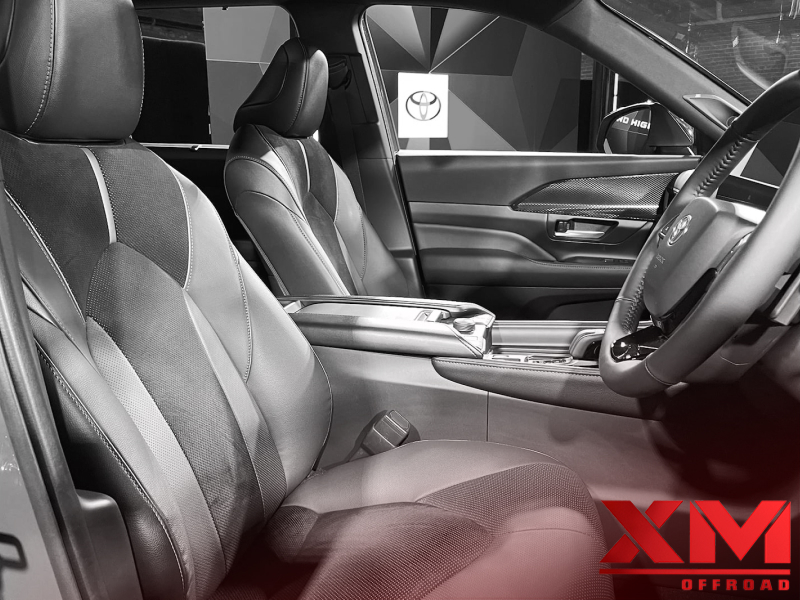 The Grand Highlander is equipped with the latest technology and infotainment features, ensuring a connected and enjoyable driving experience. From the user-friendly controls to the intuitive interface, Toyota has prioritized convenience and comfort in every aspect of the cabin design. You can contact XM Off-road Rims if you want to know more about the interior features of the 2024 Toyota Grand Highlander.
Performance and Powertrain:
Under the hood, the 2024 Toyota Grand Highlander offers impressive performance options. Furthermore, the base model comes equipped with a robust V6 engine, delivering ample power for everyday driving needs. For those seeking even more exhilaration, an optional hybrid powertrain is available, combining a gasoline engine with electric motors to enhance fuel efficiency and reduce emissions.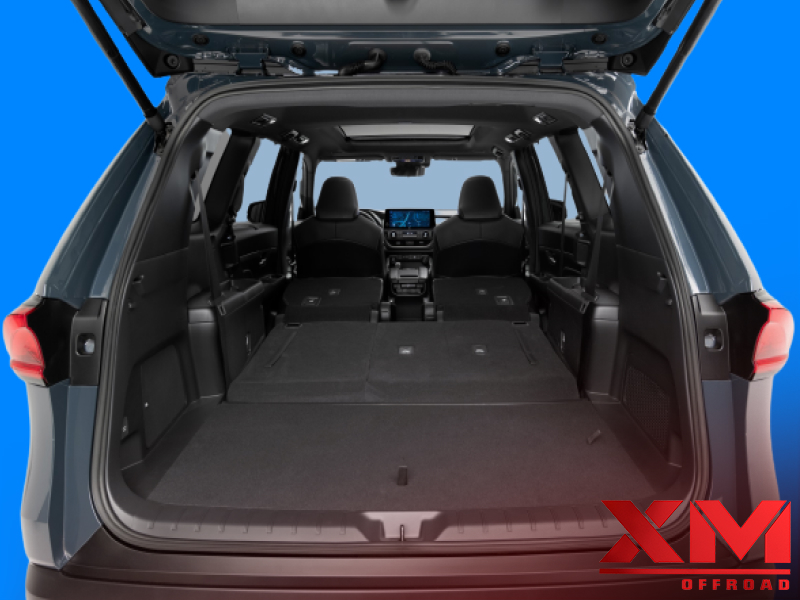 The Grand Highlander handles exceptionally well for its size, providing a smooth and comfortable ride. Whether navigating city streets or embarking on long road trips, this SUV delivers a confident and capable performance.
Safety and Security:
Toyota has long been known for its commitment to safety, and the 2024 Grand Highlander is no exception. Equipped with an array of advanced driver-assistance systems (ADAS), this SUV ensures peace of mind on every journey. Features such as lane departure warnings, adaptive cruise control, and automatic emergency braking help prevent accidents and mitigate potential risks.
Additionally, the 2024 model has received excellent crash test ratings and boasts a solid reputation for reliability. Moreover, when it comes to safety, the Toyota Grand Highlander excels.
Cargo Space and Practicality:
One of the standout features of the 2024 Toyota Grand Highlander is its generous cargo space and practicality. With all seats in place, there is ample room for groceries, sports equipment, or luggage. And when you need to transport larger items, the third-row seats can easily be folded down to create even more storage space.
The flexibility of the folding seat configurations allows you to customize the interior to accommodate your specific needs. Whether you're going on a family vacation or simply running errands, the Grand Highlander offers exceptional cargo versatility.
Pricing and Trims:
When it comes to pricing, the 2024 Toyota Grand Highlander (with 24 inch rims) is competitive within its segment. With several available trims and configurations, there is a model to suit various budgets and preferences. However, the starting price for the base model provides excellent value for a vehicle of this size and caliber.
While higher trim levels come with additional features and luxury upgrades, even the base model offers a comprehensive set of standard features. Furthermore, when compared to similar SUVs in its class, the Grand Highlander presents an attractive pricing proposition.
Customer Reviews and Ratings:
Customers who have experienced the 2024 Toyota Grand Highlander have expressed high levels of satisfaction. From its spacious interior to its smooth ride, many owners have praised the SUV's comfort and practicality.
In addition, the advanced safety features have also garnered positive feedback, providing an added sense of security for families. While some have mentioned minor concerns, such as fuel economy, the consensus remains overwhelmingly positive. Hence, the 2024 Toyota Grand Highlander has received favorable ratings from both experts and owners alike.
Pros and Cons: In summary, let's take a closer look at the pros and cons of the 2024 Toyota Grand Highlanders:
Pros:
Spacious and luxurious interior

Advanced technology and safety features

Impressive performance and handling

Ample cargo space and flexibility

Competitive pricing within its segment
Cons:
Fuel economy could be improved in some models.
Conclusion:
The 2024 Toyota Grand Highlanders solidifies its position as Toyota's biggest 3-row SUV, offering an exceptional combination of style, comfort, and performance. With its striking exterior design, luxurious interior, advanced safety features, and spacious cargo capacity, this SUV ticks all the boxes for families seeking a reliable and versatile vehicle.
Read Also: Why the 2025 Toyota 4Runner Shines Above the Jeep Wrangler: Top 15 Key Points?
While fuel economy may be a minor drawback, the overall package of the Grand Highlanders surpasses expectations. If you're in the market for a 3-row SUV, the 2024 Toyota Grand Highlander is worth considering. So, schedule a test drive today and experience the excellence firsthand.
FAQs
Q1) Can the 2024 Toyota Grand Highlander tow heavy loads?
Yes, the 2024 Toyota Grand Highlander is designed to handle towing tasks with ease. It boasts an impressive towing capacity, allowing you to tow trailers, boats, or recreational vehicles. With its robust engine and towing capabilities, the Grand Highlanders is a versatile SUV for those with towing needs.
Q2) What infotainment options are available in the 2024 Toyota Grand Highlander?
The 2024 Toyota Grand Highlanders offers a range of advanced infotainment options to keep passengers entertained and connected. It includes a large touchscreen display, smartphone integration through Apple CarPlay and Android Auto, Bluetooth connectivity, and a premium audio system. Some models may also feature a rear-seat entertainment system for enhanced passenger enjoyment.
Q3) Is the 2024 Toyota Grand Highlander fuel-efficient?
While the 2024 Toyota Grand Highlander offers a powerful V6 engine, it also provides decent fuel efficiency for a vehicle of its size. However, for those seeking even better fuel economy, Toyota offers a hybrid variant of the Grand Highlanders. The hybrid model combines a gasoline engine with an electric motor, delivering excellent fuel efficiency and reduced environmental impact.
Q4) How does the 2024 Toyota Grand Highlander compare to its competitors?
The 2024 Toyota Grand Highlander stands out in its segment due to its spaciousness, powerful engine options, and wide array of standard and available features. It competes with other three-row SUVs like the Honda Pilot, Ford Explorer, and Chevrolet Traverse. The Grand Highlander's reputation for reliability, strong resale value, and Toyota's renowned build quality give it a competitive edge in the market.
Q5) What is the price range for the 2024 Toyota Grand Highlander?
The exact pricing for the 2024 Toyota Grand Highlander may vary depending on the trim level and optional features chosen. However, as a larger and more advanced version of the Toyota Highlander, it is expected to have a slightly higher price range. It is advisable to contact your local Toyota dealership for the most accurate pricing information and available incentives.