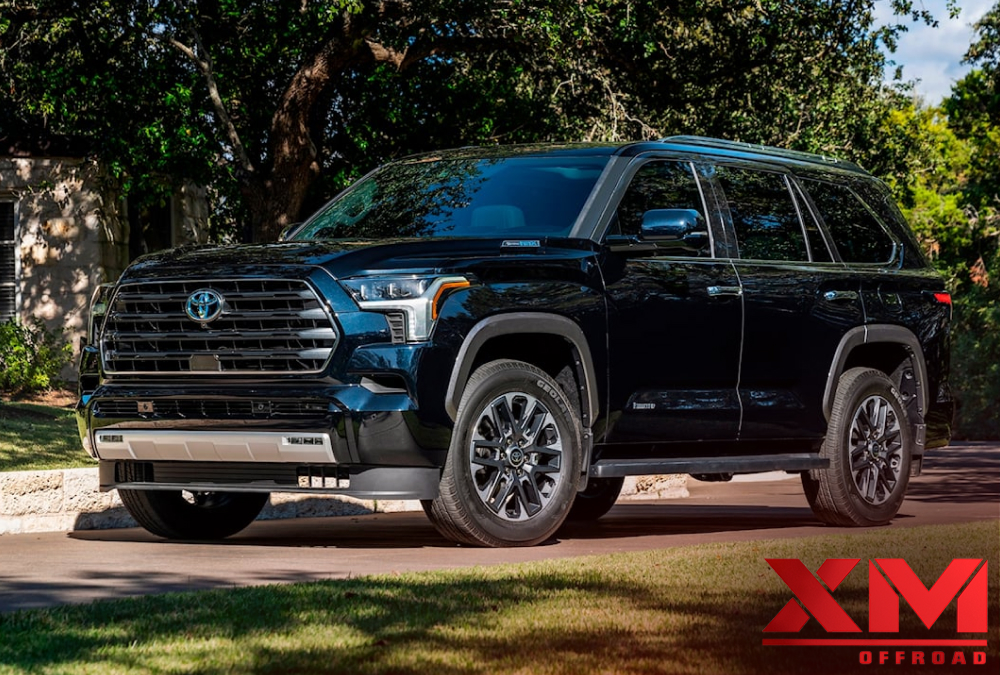 9 Reasons: Why the 2023 Toyota Sequoia is a Good Overland SUV
The world of Overlanding demands a reliable and capable vehicle that can tackle rugged terrains while providing comfort and convenience during extended journeys. The 2023 Toyota Sequoia is a standout choice in overland SUVs. With its impressive off-road capabilities, spacious interior, advanced features, and exceptional build quality, the Sequoia TRD Pro sets a new benchmark for overland enthusiasts. So, here we will explore nine reasons why the 2023 Toyota Sequoia is a good overland SUV.
Unmatched Off-Road Prowess
The Toyota Sequoia TRD Pro boasts exceptional off-road capabilities, making it an ideal companion for overlanding adventures. Partially four-wheel drive with an electronically controlled, two-speed transfer case and features like CRAWL Control, Multi-Terrain Select, and Downhill Assist is standard on the off road rims car. The TRD Pro Sequoia also has a TRD Pro front stabilizer bar and an off-road suspension system with 2.5-inch FOX Internal Bypass coilovers, rear remote reservoir shocks, and a TRD skid plate. This SUV can conquer challenging terrains with ease. The Multi-Mode 4WD system with Torsen limited-slip differential ensures optimal power distribution to all four wheels, enhancing traction and control. Whether traversing rocky trails or tackling steep inclines, the Sequoia TRD Pro will keep you confident and capable.

Powerful Engine Performance
Under the hood, the 2023 Sequoia TRD Pro is powered by a potent 3.5-liter V6 engine that delivers an impressive 381 horsepower and 401 lb-ft of torque. This robust powertrain provides ample power for off-road adventures and enables the Sequoia to tow up to 7,400 pounds, making it suitable for hauling trailers or carrying additional equipment. The smooth and responsive acceleration ensures you have the necessary power when needed most.

Spacious and Versatile Interior
Overlanding involves extended trips and the need to carry ample gear. Step inside the Sequoia TRD Pro; a spacious, refined cabin will greet you. The 14-inch infotainment touchscreen and digital cluster are the centerpieces of the cockpit, but the push buttons and knobs contribute to the car's well-rounded, practical design as a whole. The interior combines comfort and functionality, offering seating for up to eight passengers. Premium leather-trimmed seats with red stitching and embroidered TRD Pro logo create an upscale feel. The second-row captain's chairs provide ample legroom and comfort. The third-row seats may be easily folded flat to create a large cargo space, allowing you to store all your adventure gear without compromising passenger comfort.
Advanced Safety Features and Better Handling
Safety is paramount when venturing into remote locations. The 2023 Sequoia TRD Pro comes equipped with Toyota Safety Sense™ P, a suite of advanced security features that includes a Pre-Collision System with Pedestrian Detection, Lane Departure Alert, Dynamic Radar Cruise Control, and Automatic High Beams. These features provide an extra layer of confidence, helping you navigate challenging terrains and unforeseen obstacles with peace of mind. The 2023 Sequoia is sturdy and balanced on any surface thanks to its Tundra frame and lightweight, durable materials.

The Sequoia TRD Pro incorporates modern technology features to enhance the over-landing experience. The standard 7-inch touchscreen infotainment system supports Apple CarPlay and Android Auto, allowing seamless smartphone integration for navigation, communication, and entertainment. The available JBL® premium audio system ensures excellent sound quality, keeping you entertained during long drives. Furthermore, the integrated Multi-Terrain Monitor provides a real-time view of the vehicle's surroundings, facilitating navigation in 28 inch off-road rims situations.
One of its wisest moves was Toyota's choice to equip the 2023 Sequoia with a 3.5-liter V-6 and an electric powertrain. Along with making for a quick drive, the hybrid engine configuration allows the Sequoia TRD Pro to achieve a combined fuel economy of 20 MPG, or 19 MPG on city streets and 22 MPG on the interstate. The original Sequioia's EPA fuel rating was roughly 15 MPG combined city and highway, which is a significant gain. When contrasting the most recent Sequoia with some of its top rivals, these fuel economy ratings are also impressive. With a 22.5-gallon fuel tank and an estimated five gallons every 100 miles, the 2017 Toyota Sequoia has a huge range and can go on an adventure.
The Sequoia TRD Pro features a bold, aggressive exterior design that exudes strength and durability. With its prominent grille, beefy fender flares, and black accents, this SUV makes a statement both on and off the road. It also features a blacked-out grille with heritage Toyota badges and beautifully designed auto-leveling triple-beam LED headlights. The TRD Pro also features an extendable side mirror to assist drivers when towing. The 18-inch BBS forged aluminum TRD wheels, and all-terrain tires enhance its rugged appeal while ensuring optimal performance on various surfaces. A roof rack provides additional storage options for bulky equipment such as tents, kayaks, or bicycles.
The towing capacity of the Toyota Sequoia TRD Pro is another amazing feature. The towing capacity of the new Sequoia full-size SUV has increased by 26% compared to the previous model. There will never be a problem transporting a boat, RV, or trailer. In addition to the towing capability of the 2023 Toyota Sequoia TRD Pro, the automaker added certain practical features to ease the task for drivers. A Tow Tech Package that includes Trailer Backup Guide and Straight Path Assist is a standard feature on the Sequoia TRD Pro. Both towing systems employ cameras and sensors to either make it simpler to back up your car even when it has a trailer connected or to keep you on the correct path.
Toyota Reliability and Resale Value
Toyota has long been renowned for its reliability, and the Sequoia TRD Pro is no exception. Built with high-quality materials and backed by Toyota's reputation for longevity, this SUV is designed to withstand the rigors of overland adventures. Additionally, Toyota vehicles tend to hold their value well over time, making the Sequoia TRD Pro a wise investment for immediate enjoyment and potential resale value.
Final Words
For overland enthusiasts seeking the perfect balance of off-road capabilities, comfort, and reliability, the 2023 Toyota Sequoia TRD Pro is an exceptional choice. With its unmatched off-road prowess, powerful engine, spacious interior, advanced safety features, cutting-edge technology, rugged design, and Toyota's renowned reliability, the Sequoia TRD Pro is well-equipped to tackle any overlanding adventure. Embark on your next journey confidently, knowing that the Sequoia TRD Pro is the perfect overland SUV to accompany you every step.
Read Also: What are the Most Important Off-Road Upgrades and Modifications for Your 4×4
FAQs
Q1) Is the 2023 Sequoia Fast?
While the Tundra receives to the 60-mph mark from a forestall in 6.1 seconds, the 2023 Toyota Sequoia gets the 0 to 60 mph done in just 5.6 seconds, not to mention it's capable of towing up to 9,310 pounds.
Q2) What is the Price of Toyota Sequoia 2023?
The pricing of the 2023 Toyota Sequoia is between $58,300 and $78,300. The full-size, three-row Toyota Sequoia is the first iteration of a brand-new technology.
Q3) Is the Toyota Sequoia a Luxury Vehicle?
The Toyota Sequoia is taken into consideration a luxurious car with the aid of using the brand, however the Lexus GX and LX are alternatives from the posh brand. Many SUVs on the market have luxurious features, but these usually come with a high cost. While Toyota isn't a luxury brand, the Sequoia is considered a luxury vehicle.
Tags In