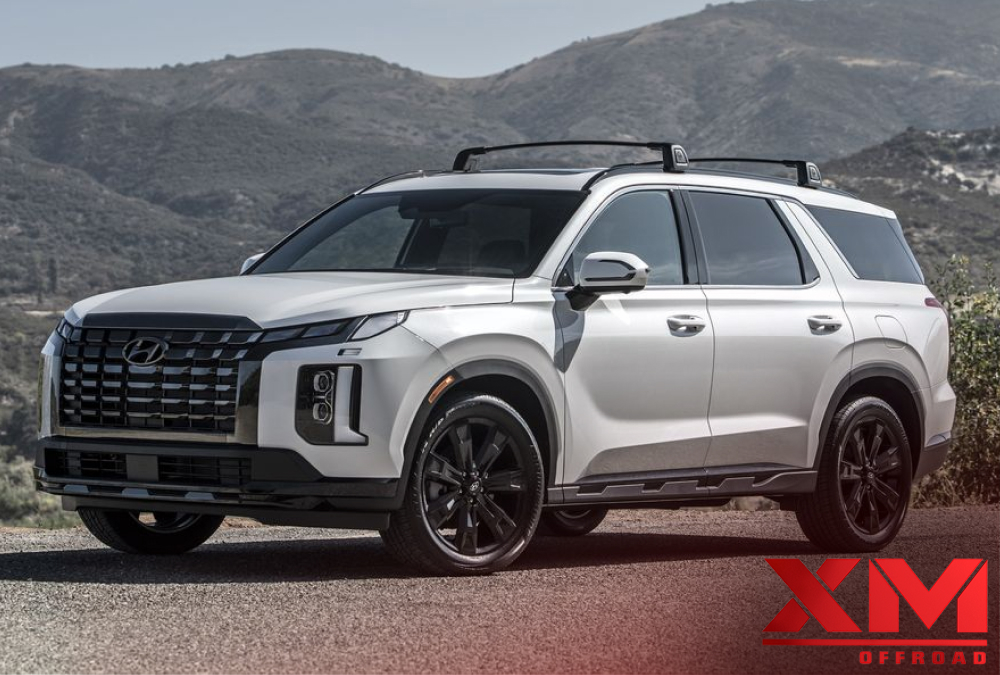 Choosing the Right Setup: 2023 Hyundai Palisade Configurations
If you are struggling in the market to find a perfect three-row SUV that doesn't cross into minivan territory the 2023 Hyundai Palisade is definitely worth considering. This year's model brings some changes and additions that make it more appealing.
Alongside its relative, the Kia Telluride, the Palisade stands out in its segment by offering plenty of space for up to eight passengers and a wide range of features at an attractive price point. It has a style and a distinct personality.
Key Factors to Consider
When choosing the configuration for your 2023 Hyundai Palisade there are important factors to keep in mind.

1. Trim Levels
The Palisade is available in five trim levels SE, SEL, XRT, Limited, and Calligraphy. Each trim level comes with its features and options. Depending on your preferences and budget you can select the one that suits you best.

2. Drivetrain
You have the option to choose between front-wheel drive (FWD) or all-wheel drive (AWD) for your Palisade making it adaptable to driving conditions. If you need traction and stability— in challenging weather conditions—the AWD version, with XM wheels is an excellent choice.
3. Seating Capacity
When it comes to the number of seats you have the option to choose between a seven-passenger or eight-passenger configuration. It's essential to consider how many passengers you typically have in order to make the best decision.

4. Features
The Palisade offers a range of technology and features, across its different trims. These include entertainment systems, safety features, connectivity options, and more. Make sure that the trim you choose matches your desired level of technology.
5. Packages and Options
Hyundai provides packages and standalone options that allow for customization. These can include wheels, sunroofs upgraded audio systems, and more.
6. Exterior and Interior Colors
Personalize your Hyundai Palisade by selecting your preferred exterior and interior colors. Choosing the combination can enhance the look of your vehicle.
7. Budget
It's important to keep your budget in mind when making a decision. Finding a balance, between the features you want and what you can comfortably afford is crucial.
What's New for 2023:
The 2023 Hyundai Palisade introduces a styling refresh inside and out, along with the addition of a new XRT trim that injects some attitude into the lineup. Notable features added this year include a Wi-Fi hotspot, a driver seat massage function, and heated third-row seats, enhancing the overall driving experience.
Trim Levels and Pricing:
Here's an overview of the trim levels and starting prices for the 2023 Palisade:
SE: Starting at $36,245, the SE offers an impressive array of standard features, including safety assists and advanced technology.
SEL: Priced from $39,245, the SEL adds features like roof rails, power-adjustable heated front seats, and more, making it a strong value proposition.
XRT: The XRT trim, starting at $41,545, adds a touch of attitude with dark styling accents, rugged bumpers, and black upholstery.
Limited: Priced at $47,795, the Limited trim includes all SEL features and the Premium package, enhancing the Palisade with additional luxury touches.
Calligraphy: Topping the range at $50,195, the Calligraphy model boasts premium features, exclusive styling flourishes, and additional luxury functions.
Engine and Performance:
The 2023 Hyundai Palisade is equipped with a 3.5-liter V6 engine producing 291 horsepower, mated to an eight-speed automatic transmission. It offers a smooth and quiet ride, prioritizing comfort over sporty performance.
Fuel Economy:
In terms of fuel economy, the Palisade's EPA estimates are 19 mpg in the city and 27 mpg on the highway with FWD, and 19/25 mpg with AWD. While it may not be the most fuel-efficient in its class, the overall package still makes the Palisade a strong contender.
Safety:
Safety is a strong suit of the Palisade, earning top safety ratings and coming equipped with a range of standard safety features, including forward-collision warning, lane-keeping assist, and blind-spot monitoring.
Comparison:
When comparing the Hyundai Palisade to its competitors, it stands out for its feature set, luxurious interior, and value for money. It competes favorably with premium-brand models and offers a comfortable driving experience. While it may not have a sporty variant, it excels in various other aspects.
Interior:
Inside the 2023 Hyundai Palisade, passengers are treated to an exceptionally accommodating interior. The second row offers ample space, and the third row can comfortably accommodate adults or tall teenagers, a feature not always common in three-row SUVs.
The base SE trim comes with a three-person bench seat in the second row, while the SEL trim allows you to opt for captain's chairs, reducing passenger capacity to seven. Upper trims feature captain's chairs exclusively.
The Palisade's interior is generous in terms of legroom, and these captain's chairs even come with heating and cooling functions, adding to the overall comfort. Additionally, the convenience of a power-folding mechanism for both rows makes stowing and accessing cargo a breeze.
Interior's detail
At the SEL level, the cabin receives upgrades like soft-touch padded surfaces and leather finishes. Moving up to the Limited trim, the Palisade's interior takes on an even more luxurious appearance and feel. It's important to note that the Palisade employs a unique push-button gear selector, which might take some getting used to, but it quickly becomes intuitive for owners.
Room for cargo
The Palisade has a lot of small storage bins and a large center bench between the front seats, so it's easy to keep your personal belongings and electronics safe.
The Palisade has a lot of room for trucks and other goods. When both back seats are folded down, it has a good trunk space of 86 cubic feet, so it can carry a lot of different things.
You'll have more than 45 cubic feet of space behind the second row, even with just the third-row seat folded down. This is great for sports gear or baby gear. Even with the third row in place, there are still 18 cubic feet of space left, which is about the same as the average for the class.
People who often move six to eight people and their stuff might want to look at the Volkswagen Atlas, which has 20 cubic feet of room behind the third row, or the Chevrolet Traverse, which has 23 cubic feet.
Entertainment and Connectivity:
The 2023 Hyundai Palisade's entertainment system is one of its best features. The entertainment system has a big 12.3-inch tablet and comes with navigation, Android Auto, Apple CarPlay, and a brand-new Wi-Fi hotspot.
The system is easy to use and can connect to multiple devices via Bluetooth, which makes it useful and flexible. The smooth design makes it easier to get to different features, and the actual buttons make it even easier to use by providing quick access to the most important features.
Conclusion
The 2023 Hyundai Palisade can be set up in a number of different ways to meet the needs and wants of different people. You can choose the setup that fits your needs and way of life by carefully weighing the base levels, engine, number of seats, technology, packages, colors, and budget. The Palisade is a strong player in the three-row SUV market because it has a lot of features, is comfortable, and is a good deal.
Read Also: Unveiling the 2022 Honda Accord: Fuel Efficiency Meets Style
FAQs
Q1. How are the different trim levels of the Hyundai Palisade different in important ways?
There are five trim options for the 2023 Hyundai Palisade. They are SE, SEL, XRT, Limited, and Calligraphy. The SE is the base model, and the SEL comes with extras like roof rails and heated front seats that can be adjusted or heated up.
The XRT trim adds style with its dark styling details, and the Limited trim comes with all the features of the SEL trim plus the Premium package. The Calligraphy model is the best of the bunch because it has the best features and the coolest styling touches.
Q2. Should I think about getting All-Wheel Drive (AWD) in the 2023 Palisade?
It depends on how you drive to decide if you should get all-wheel drive (AWD) in your 2023 Hyundai Palisade. AWD improves stability and grip, which makes it a great choice if you often drive in bad weather or on rough ground. Front-wheel drive (FWD), on the other hand, may be enough if you mostly drive in warm weather and want to save gas.
Q3. What makes the 2023 Hyundai Palisade different from other cars on the market?
The 2023 Hyundai Palisade stands out because it has a lot of features, a nice cabin, and is a good deal for the money. The inside is roomy and comfy, which makes it a great choice for families. It doesn't come in a sports version, but it's great at making the ride smooth and quiet. The Palisade is a strong competitor in the three-row SUV market and does well against models from higher-end brands.