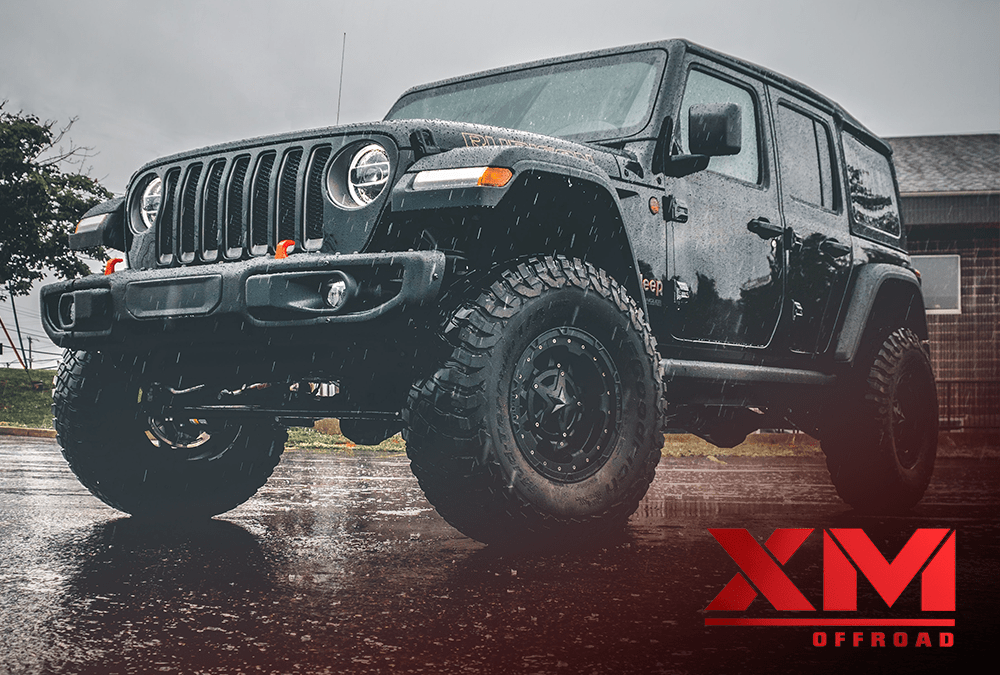 Jeep Wrangler Under The Sign Of Dragon. What Is The Concept?
Though some belief the Jeep Wrangler to be the ideal American car, it is equally popular internationally. Jeep debuted the Wrangler Dragon concept at the Beijing Auto Show this week, hoping to capitalize on its growing popularity in China. A Wrangler Unlimited Rubicon with a black body-color three-piece hardtop is the inspiration for the Dragon idea. The black paint job accents with bronze-gold trim on the headlight surround, front grille slats, and Jeep logos to give it that show car touch. Although Jeeps and dragons may not appear to be a natural match at first look. Dragons represent great and fortunate abilities over water, rain, winds, and harsh weather occurrences in Chinese tradition.
Features
The Wrangler Dragon's 20-inch off-road wheels should keep it safe in any bad weather; The hefty rubber has adhered on 18-inch matte black five-spoke alloy wheels with a bronze-gold high-gloss outside edge. A pad-printed engine cover, bolts for the fuel-filler door and taillight assembly, and a Chinese dragon character side emblem and wheel center caps follow the bronze-gold motif.
Exterior
The exterior of the Dragon concept, which has the rough-and-ready Rubicon, is given an extra touch of sophistication. It is with painted fenders and a gloss-black appliqué on the front bumper. A tone-on-tone dragon decal starts on the bonnet and spans the length of the vehicle's driver's side. More Dragon, please. A dragon design appears on the carbon-fiber under-hood insulator, while another appears on the gloss-black spare tire cover. The exterior has black-finish LED external lighting with aftermarket projector headlights, fog lamps, turn lamps, and taillights, as well as a Mopar fuel-filler.
Upholstery
The upholstery is accented with Magic Wand metallic leather on the side bolsters and the sides of the headrests, as well as bronze-gold accent piping and stitching. The laser-etched dragon motif appears on the headrests once more. The exterior borders of the seats and the front center armrest are likewise covered in dragon-scale patterned bronze-gold leather.
The instrument bezels are high-gloss piano black, and the steering wheel spokes, instrument cluster, passenger-side dashboard grab grip, and door handles are bronze-gold accented, with gold accent stitching on the leather-wrapped door bolsters. The front and rear floor mats are also with the dragon treatment.
Unveiled Concept
The company has unveiled Wrangler Dragon as a concept. But it indicates that if there is enough customer desire, it may someday go into production. Of course, we would not be shocked to see Wrangler Dragons prowling the streets of China shortly, given the importance of the Chinese market.
Following its affection for the Chinese market, Chrysler is now celebrating the Year of the Dragon with its new Jeep Wrangler Dragon Concept. At the Beijing Auto Show, Jeep debuted the Wrangler Dragon design concept, which is also the first Jeep vehicle created, particularly with Chinese components in mind. The Jeep's Dragon idea is based on a Chinese-spec Wrangler Unlimited Rubicon and has Dragon patterns everywhere. From the symbol in the wheel center caps to a sticker that glides down from the hood to the driver's side of the car, the Dragon roars. In addition, the black leather seats have a laser-etched dragon design, and the exterior borders of the chairs have a bronze-gold patterned leather called "dragon scale."
Best off-road Drive
The Jeep Wrangler Dragon concept rides on matte-black 18-inch five-spoke alloy wheels with 30-inch road wheels. A gloss-black spare-tire cover, black painted fenders, a Mopar fuel-filler door, and a black finish LED external lighting package with aftermarket projector headlights, fog lamps, turn indicators, and taillamps round out this unique vehicle's features. You will also discover piano-black and bronze gold embellishments in the cabin area. It is an eye-catching design that, according to Chrysler, "may become a production model if demand is high enough."
The fantastic Jeep Wrangler offers exceptional off-road prowess and classic styling. It was built from the ground up to handle rugged and tricky terrain. Even though the Wrangler's on-road driving characteristics are essential. They are crucial compared to virtually any modern crossover, it has amassed legions of devotees over the years.
Two Different Versions
The Jeep Wrangler is available with two or four doors, soft or hard top tops, and even you can remove the roof entirely. For 2021, gasoline, diesel, and hybrid engines will be available. It competes with the Toyota 4Runner, Land Rover Defender, and the impending Ford Bronco, among other off-road SUVs.
The Wrangler is an Entelechies Best Overall Value winner for 2021, as it has been in previous years.
All Wranglers, regardless of powerplant, are 4WD, as one would expect from a Jeep. A six-speed manual transmission is standard, with an eight-speed automatic transmission available.
Engine and Power
The base engine in the Wrangler is a 3.6-liter V-6 that produces 285 horsepower and 260 pound-feet of torque. In addition, it gets Jeep's torque mild hybrid to assist technology when connected with an automatic gearbox. A Jeep Wrangler Rubicon with this engine and a manual gearbox clocked in at 7.4 seconds in Motor Trend testing. With this engine and the automatic transmission, a Wrangler Sahara reached 60 mph in 6.9 seconds. The EPA estimates that manual-equipped two-door cars will get 17/25 mpg city/highway, while four-door versions will get 17/23 mpg. Automatic-equipped two-door vehicles get 20/24 mpg, while four-door models get 19/24 mpg.
A 2.0-liter turbo-four engine generates 270 horsepower and 295 pound-feet of torque. Only an automatic transmission is available with this engine. Unlike the previous year, this engine no longer has torque hybrid assistance. A Wrangler Rubicon with the turbo-four had an 8.0-second 0-60 mph pace in Motor Trend testing. The EPA estimates that two-door cars will get 22/24 mpg, and four-door versions will get 21/24 mpg.
Legacy of Jeep
The legendary Jeep Wagoneer and Grand Wagoneer have returned after a three-decade hiatus. Finally, the firm has launched manufacturing versions of these iconic luxury SUVs. They resemble the concept cars that appeared in late 2013 with Jeep SRT, for better or worse. These luxury SUVs have arrived to raise the bar in a very competitive vehicle market for the first time, honoring the originals' lineage. The business has built these high-end utility cars to compete with luxury utility vehicles such as the GMC Yukon Denali and Lincoln Navigator, all of which are superb, as well as the BMW x7 and Range Rover.
Author Bio
Eden is a publicist and a writer. She attended Yale University and majored in business and marketing. Eden went through the client's social media profiles and created what was lacking. She has ten years of experience working with Best off-road wheels manufacturers. She enjoys playing volleyball, watching Netflix, and trekking when she is not writing.