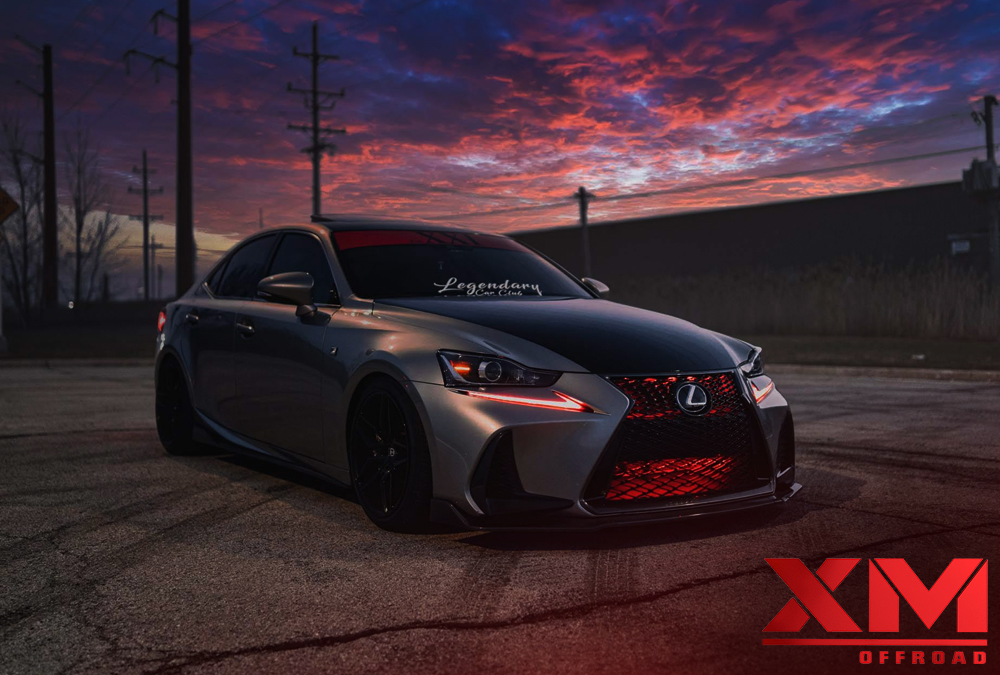 2017 Lexus IS200t F Sport – Specs and Technology
The 2017 Lexus IS200t F Sport is a mid-cycle refresh for the entry-level luxury sedan. It competes with the BMW 330, Mercedes-Benz C-Class, and Audi A4.
It uses the same 2.0-liter turbo-assisted four-cylinder petrol engine seen in most other Lexus models. That produces 241 horsepower and 258 lb-ft of torque, which it puts to the rear wheels via an eight-speed automatic transmission.
The Engine
The 2017 Lexus IS200t F Sport is a car you can be proud to drive. It's a sporty-looking sedan that will not be ignored, and it comes with an imposing array of standard and optional features that you would expect from this type of vehicle.
The IS200t is powered by a 2.0-liter turbocharged four-cylinder engine that generates 180kW at 5800rpm and 350Nm of torque from 1650 to 4000rpm. These are figures that beat most entry-level petrol cars.
As a result, it has excellent performance and is quite capable in the hands of an expert driver. It also performs well on fuel, with the EPA rating it at 22 cities and 32 highway miles per gallon.
With the turbo's power, it can quickly pick up speed – the IS200t is only a few seconds off the 0-62mph mark. The top speed of the IS200t is 143mph, which is pretty good for a saloon car.
Steering in the IS200t is positive, firm, and light. It varies in response to the road and your inputs, allowing you to make fine adjustments as you battle tight city streets or high-speed freeways.
It's a great feature and helps to create the feeling that you control your car. You'll also find the brake pedal firmly planted, even at higher speeds.
There are different steering, throttle, and transmission settings, including Eco, Normal, and Snow. The former tries to balance efficiency and performance while altering the throttle response and transmission while adjusting the climate control settings. There are also various safety systems to choose from, such as lane departure warning and active lane control, while a blind spot monitor is available for an extra $600.
The Ride
The 2017 Lexus IS200t F Sport ride quality is well-honed and refined. Its stout chassis and crisp steering give the IS quick reactions to steering inputs and a stable feel over rough back roads.
Its 2.0-liter turbo does an excellent impression of a larger engine, providing plenty of torque and acceleration once on boost. However, it can be a handful when off-boost and the eight-speed automatic transmission hesitates to downshift occasionally.
As a result, finding gear quickly can be difficult, leaving you feeling stuck when trying to drive through tight roundabouts or junctions. Thankfully, four driving modes are available to help you deal with varied road conditions.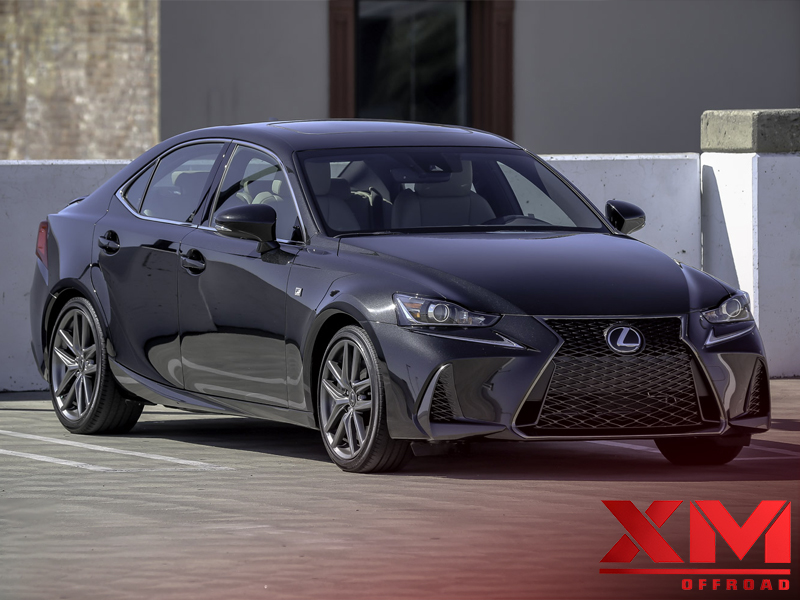 The Eco mode modifies the power and fuel consumption, while Sport and Normal alter throttle and transmission response. We found that Sport was the best mode for our driving style, giving the most direct and responsive throttle response.
We also preferred the F Sport package's stiffer suspension and more performance-oriented summer tires. This helped the IS 200t handle better than most other Lexus models, even over the slick pavement.
Although it's not as fast as a BMW 3 Series or Mercedes-Benz C-Class, the IS200t offers a good mix of balance, comfort, and exquisite build quality. That's why it's an impressive option for anyone looking to upgrade from a sedan or hatchback to a compact luxury sports car.
The 2017 Lexus IS200t is the company's most accessible alternative to the European luxury sedan competition. It's not a hotrod, but it's still a great vehicle to own and won't break the bank. It has a lot to offer for an affordable price and a fun and well-rounded driver's car.
The Handling
The IS200t F Sport is a great choice for anyone who wants to get behind the wheel of a sports sedan that doesn't look like a retirement vehicle. It's the only IS to feature rear-wheel drive, an 8-speed automatic, and a powerful engine that sounds truly racy.
Whether you're driving on the open road or around town, the IS200t F Sport is a fun car to handle. Even though it's not as quick off the line as its competitors, acceleration is smooth and strong, and you can quickly pick up speed.
Our test car was an IS 200t F Sport, which means it has a slightly firmer suspension and bigger tires than the standard model. These features help it stand out on the road and make for a more enjoyable drive.
We drove the car on public roads and a closed-course race track, which proved to be a good way to see how well the IS200t F Sport handles in different conditions.
Related Blog: 15 of the Most Prized Cars in Arnold Schwarzenegger's Collection
The handling was incredible in all scenarios, a sign that the F Sport's chassis is extremely tuned to deliver precise control at all times. The IS200t F Sport also has several options and features that will make you feel safer on the off road rims, including forward collision warning, active lane control, pedestrian detection, lane departure alert, automatic high beam headlights, and a backup camera with trajectory guidelines.
In the cabin, the IS200t F Sport feels more luxurious than many of its rivals, thanks to a supple leather interior and a nicely designed T-shaped dashboard, one of my favorites in this class. The steering wheel is incredibly responsive and comfortable, while the controls are easy to use and have excellent response times.
The Technology
The IS200t F Sport has an excellent set of standard safety features. It has automatic emergency braking, adaptive cruise control, lane departure warnings, dynamic radar cruise control, and blind spot monitoring. Other options include a premium 17-speaker Mark Levinson audio system, an optional power sunroof, and a rear cross-traffic alert.
For 2017 the IS 200t gets a tech upgrade with the introduction of the 10.3-inch Entune infotainment system. While this is an improvement in the form of a faster processor and sharper graphics, it is still plagued by one of the most frustrating touchpad or mouse-like controllers we've seen on any car.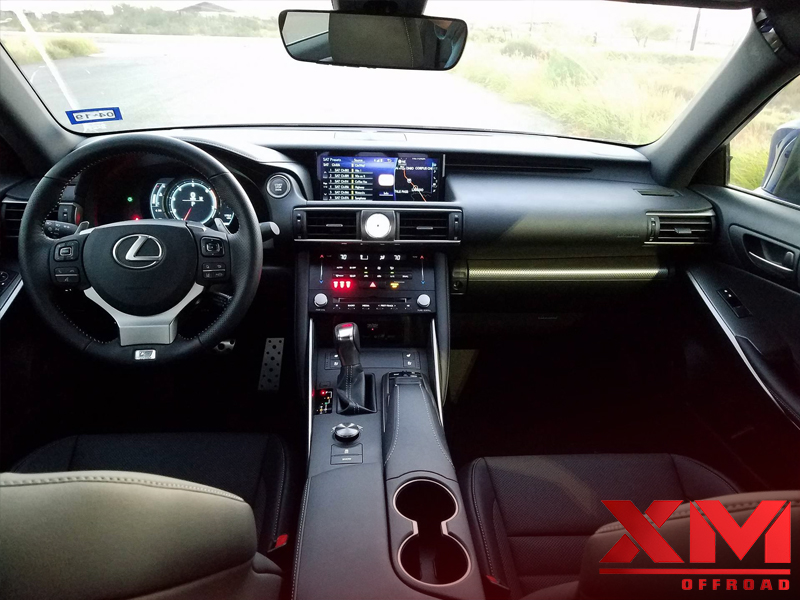 In this day and age where technology is a must, Lexus has tried to ensure the IS200t F Sport doesn't fall behind the pack with its array of technology features. These include a navigation system with turn-by-turn directions, remote access, and the Lexus Enform app that allows you to send and receive text messages, make phone calls, or make reservations.
Despite the IS200, its reliance on technology doesn't compromise comfort or refinement. A nice-to-grip steering wheel and a set of paddle shifters help to give the driver a good feel for what is happening around them.
The driving experience in the IS200t F Sport is very enjoyable and is well suited to everyday road use. This is because it's a well-tuned, well-balanced vehicle.
This is especially true when you're out on a twisting road. The IS200t F Sport doesn't have a limited-slip differential, but it's very forgiving in turn and has a finely tuned suspension.
As with the other models in the F Sport trim, the IS200t F Sport has four drive modes: Eco, Normal, Sport, and Snow.
The Comfort
Regarding comfort, the 2017 Lexus IS200t F Sport is a definite winner. It's a luxury-sport sedan with striking looks, great driving, and nearly flawless reliability.
It's the perfect choice for drivers who want to drive something a little bit different from the BMW 3 Series, Mercedes-Benz C-Class, and Audi A5 but still want a luxury sports car that's fun to own.
In the IS 200t, you get a very firm and precise steering system that gives you light maneuverability in tight city streets but is also very connected to the off-road 26-inch wheels as it turns. It's not as stiff and direct as the German rivals, but it does give you plenty of feedback and makes you feel like you're in control at speed.
We drove the IS200t on public roads around Cowichan Bay and on a high-speed tour of the Vancouver Island Motorsport Circuit (VMIC), where it showed off its strengths. On the track, it's a genuine test of a car's balance as weight constantly transfers front and rear.
Conclusion
The Lexus is a five-seater, and it's got enough room for the tallest occupants to sit comfortably with no headroom issues. But even then, the back seat could use more bolstering to make it comfortable for long trips. It's also less spacious in the rear than the competition, with a smallish 13.8 cubic feet of space available.
FAQs
What Engine Does the 2017 Lexus IS200t Have?
The IS 200t is powered by a 2.0-liter turbo four-cylinder engine producing 241 horsepower and 258 pound-feet of torque.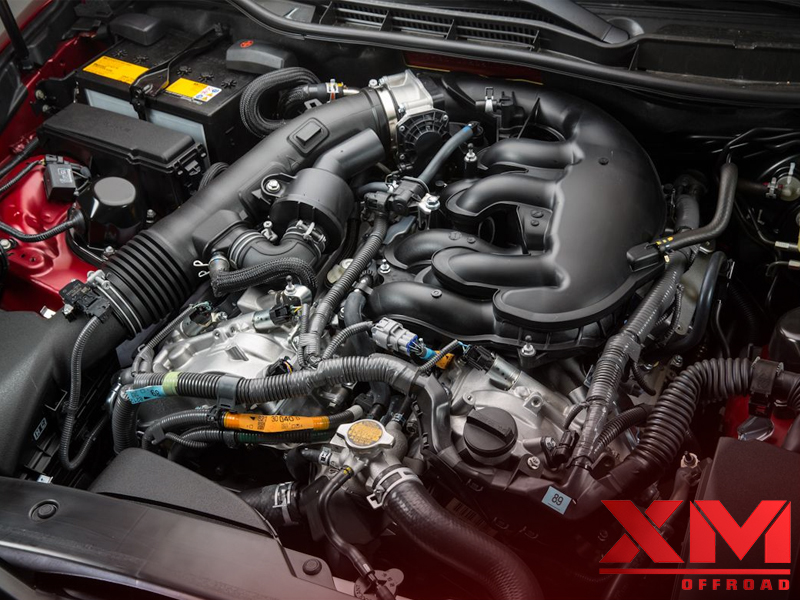 It's a well-behaved engine that produces an impression of a larger engine with a smooth torque curve and no harshness, even at high revs. It's more prone to fumbling with gear ratios than the V6-equipped IS 350, but it's still plenty quick for its size and can reach 60 mph in a respectable 6.5 seconds.
How Much Power Does a 2017 Lexus IS200t F Sport Have?
A turbocharged 2.0-liter four-cylinder engine is powered by the IS 200t putting out 241 horsepower.
An eight-speed automatic transmission sends power to the rear wheels. The EPA rates fuel economy for the IS 200t at 22/33 mpg city/highway.
What Is the 2017 Lexus IS200t?
The IS 200t is a compelling alternative to typical German competitors, a handsome entry-level luxury sedan with a well-honed ride.
The turbocharged four-cylinder produces 241 horsepower and 258 pound-feet of torque, and the smooth, quiet transmission delivers zippy acceleration. A fuel economy of 21 mpg puts the IS 200t in line with its class rivals.
How Fast is Lexus 200t F Sport?
We gathered driving impressions on public roads and a high-speed Vancouver Island Motorsport Circuit (VMIC) tour.
The 2.0-liter turbocharged four-cylinder engine isn't the fastest in class, but it's smooth and powerful enough to be fun. You do get some turbo lag, but the paddle shifters clear that up well.
Is the Lexus IS200 Fuel Efficient?
The Lexus IS200 is a popular luxury sedan that lives up to its brand's hallmarks of dependability, safety ratings, and good quality. It is available in rear-wheel drive and all-wheel drive and can be purchased with various performance upgrades.
Tags In