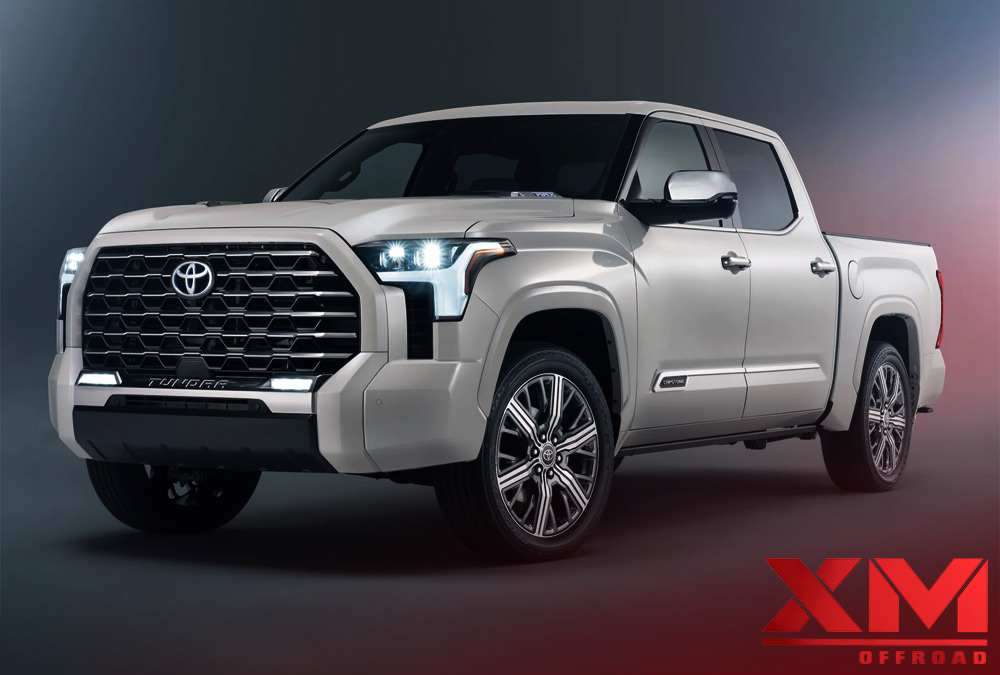 2022 New Toyota Tundra: Things You Should Know About This New Pickup Truck
Toyota has introduced its best new model 2022 Tundra full-size pickup. And this is the truck's first complete overhaul since the new third-generation Toyota went into production in late 2006. It has been redesigned with planning, construction standards, excellent performance, and offroad truck wheels capabilities. Carmakers have increased the inclusion of back chambers to further enhance efficiency.
It is determined to compete with standouts like the Ford F-150 and Ram 1500. Designed by engineers in the United States – it's a large-size pickup that exceeds your expectations with its equipment and performance. Ready to hit the road with his new style.
The 2022 Toyota Tundra Comes with Two Turbo V6 Engines
In addition, Automakers are increasing the inclusion of back chambers by reducing the number of cylinders to further improve efficiency and improve fuel economy. The Tundra's old traditional V8 engine has been scrapped and replaced with a pair of twin-turbocharged 3.5-liter V6 motors. The standard i-FORCE engine is rated at 389 hp and 479 lb-ft torque. The i-FORCE MAX is a hybrid variant with an engineered bell housing motor system that produces 437 hp and 583 lb-ft of torque. Both engines, which are more powerful and fuel-efficient than the outgoing V8, are paired with a standard 10-speed automatic transmission and a choice between 4×2 and 4×4 drive lines.
The 2022 Toyota Tundra Flaunts a Composite Bed
It is still common for automakers to construct pickup beds from steel, which is very strong but prone to corrosion. Automakers have tried aluminum, which solved the rust problem, but it isn't as durable as steel. The company chose a lightweight, corrosion-resistant, and strong bed made of Sheet-Molded Composite (SMC) with reinforcing aluminum cross-members. Thanks to the SMC construction, the tailgate is 20 percent lighter, and the bed is more resistant to dents, dings, and rust. The 2022 Toyota Tacoma bed is offered in 5.5 foot, 6.5 foot, and 8.1-foot lengths.
The New Tundra TRD Pro Edition Packs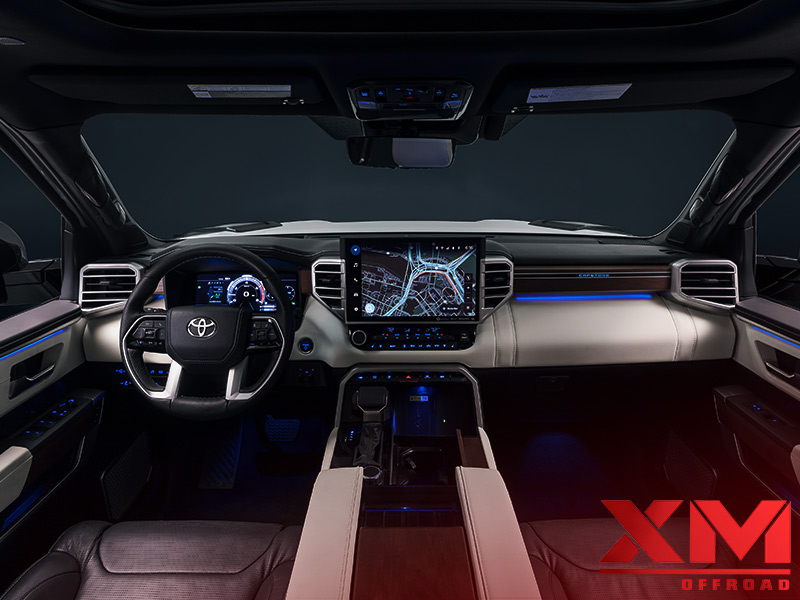 Toyota again offers the Tundra a premium off-road Focused TRD Pro Edition. The package includes 2.5-inch Fox internal bypass shocks with a 1.1-inch front lift, a TRD Pro front stabilizer bar, red suspension parts, TRD aluminum skid plates, and unique Falcon all-terrain off-road wheel tires. The TRD Pro is only available with a hybrid engine.
The 2022 Toyota Tundra is Adorned with New Developments
Truck owners need to modernize the Kotovita Tundra, so they decorated the new 2022 Tundra with innovative equipment. Tundra will introduce Toyota's brand new audio multimedia infrastructure. Its handling power is many times greater than ever before-it now uses newly configured touch screens and features another human-machine interface (HMI). Most importantly, The standard touch screen is 8 inches, but an optional 14-inch screen is also available. Despite being a virtual intelligence assistant that uses easy-to-use expressions during voice movements, Tundra offers cloud-based courses and Toyota Connected services. Apple CarPlay and Android Auto are as standard as ever.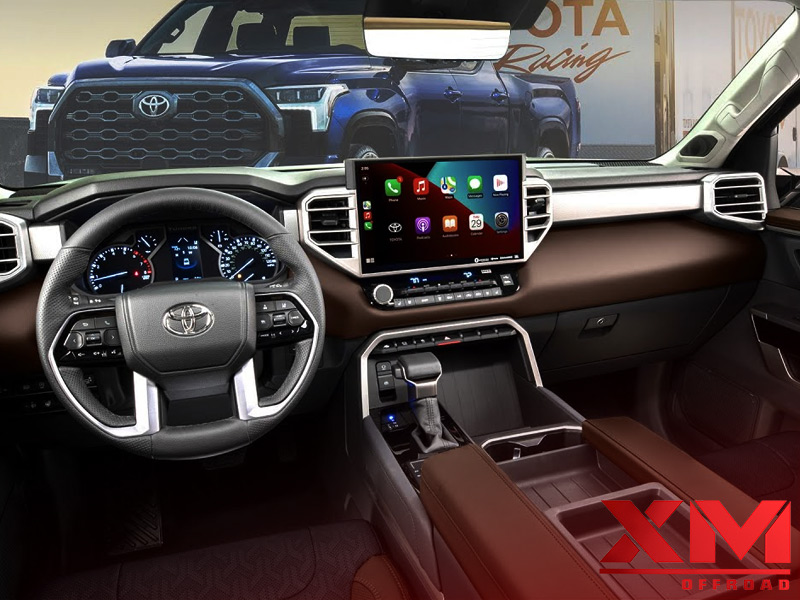 The 2022 Toyota Tundra Features the Standard Safety Sense 2.5
Other truck producers, who expect buyers to spend more cash on premium grades to get their safety equipment, Toyota has introduced all of its new 2022 Tundra models with the standard Toyota Safety Sense 2.5 (TSS 2.5). Presenting in addition to low-light pedestrians, the precolonial system with pedestrian detection (PCS w / PD) has been improved to identify the vehicle in front. On the other hand, It also aims to identify approaching vehicles (or pedestrians) when turning left at a tundra crossing point – if PCS w / PD detects an unavoidable effect it will provide you with audio/visual alerts. And the program will start to slow down. Other standard safety devices on the brand new 2022 Toyota Tundra include hardware lane tracing assist (LTA), road sign assist (RSA), blind-spot monitor (BSM), and rear cross-traffic alert (RCTA).
The 2022 Toyota Tundra Can Raise 12,000 Pounds
Moreover, Due to another high-strength boxed steel stepping stool outline, fully upgraded multi-interface back suspension, and back-safe guards mounted on the outside of the casing rails, the Tundra can weigh up to 12,000 pounds – which makes it K is 17.6% better than its ancestors. To make the towing less testing, Toyota has designed two new two / hole modes for the power train. The standard "Tow / Haul" increases the throttle – it's perfect for loads directly from light. Heavy loads will use the "Tow / Haul +" mode, which gives a more forceful throttle reaction to easily transfer excess mass.
The Toyota Tundra has a New Platform and Suspension
The Tundra is the first American vehicle to land on the new TNGA-F truck platform, supporting the New Land Cruiser. That is to say, The truck comes with a new multi-link rear suspension cut with coil springs, which improves vehicle quality, handling, and towing. The Toyota Tundra is giving a new double-wishbone front suspension to improve cornering and body roll. Some clips can add an adjustable air suspension.
Trims and Pricing
Toyota Tundra comes in six terms: SR, SR5, Limited, Platinum, 1794 Edition, including TRD Pro. The SR5 is the most popular model, and for that reason, we will choose it. Let us explain why.
SR5
Priced at $ 42,450, the SR5 includes LED fog lights, side rails with tie-down cleats, an active aero front spoiler, three selectable drive modes, two to / hole modes, and a rear armrest with cup holders. Options include load-leveling rear air suspension. 14-inch infotainment touch screen; TRD wheels, grille, suspension, and skid plates; Electronic locking rear gap; Selection of multiple regions; Blind Spot Monitor; Panoramic Wave Monitor; Dual-zone automatic climate control; Eight-way power-adjustable front seats; Twang technology package; And hot side mirrors. This is the term we recommend because it offers a wide range of features and options without pushing the base price into the luxury zone.
Final Thoughts
In conclusion, You can see the new Ativota 2022 Tundra on the streets at the end of 2021. Toyota says the brand new 2022 Tundra pickup will impress its new dealers by the end of 2021. importantly, Toyota has also redesigned the interior of the Tundra. And it will impress everyone with its excellent performance. The price starts at $38,950. We are all looking forward to this medium-sized truck.