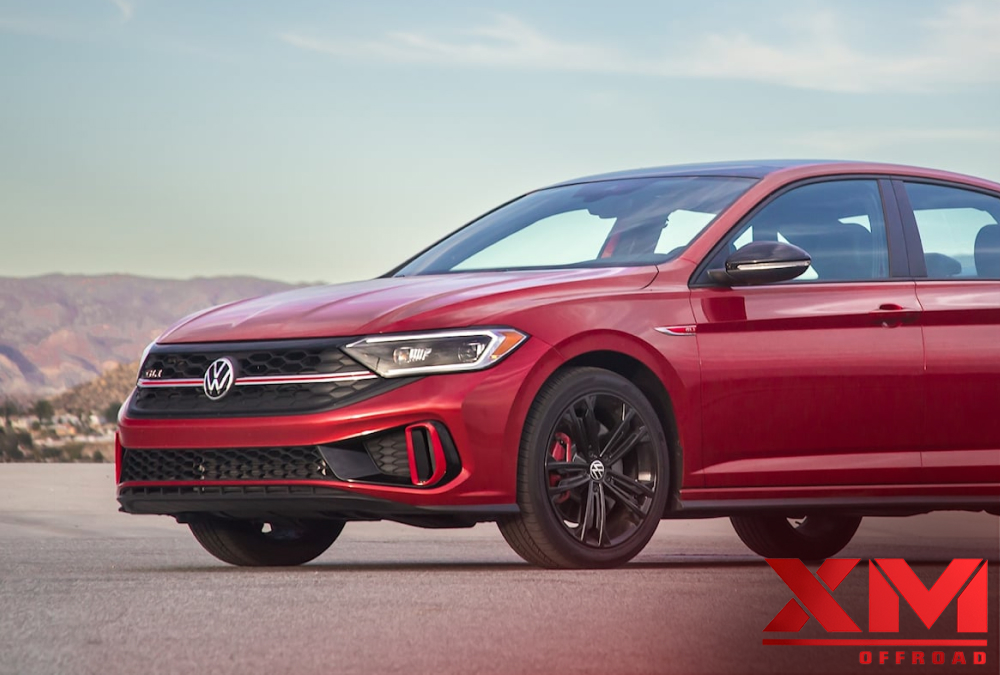 2023 Volkswagen Jetta GLI: A Sporty Sedan with a Twist
It sticks out from the rest because the 2023 Volkswagen Jetta GLI has both the style and usefulness of a sedan and the thrilling speed of a sports car. What the Jetta GLI offers is definitely worth looking into if you're looking for a car that combines the best of both worlds.
One thing that makes the 2023 Volkswagen Jetta GLI stand out is that it comes with Xmudder wheels. These high-performance wheels not only make your car look better but also make driving more enjoyable. It is perfectly made to handle any conditions whether you're going off-road or through a busy city, the Xmudder wheels will give you grip and stability.
Because the Jetta GLI is flexible, you can add XM wheels as one of your customization choices. This will give your driving experience a unique touch and make it fit your tastes. This is another example of how dedicated the Jetta GLI is to giving you a flexible driving experience that meets all your needs.
Performance That Thrills
Beneath the sleek exterior of the 2023 Jetta GLI, a powerhouse awaits. The 2.0 TSI turbocharged engine lies under the hood, ready to unleash a formidable 228 horsepower and an impressive 258 lb-ft of torque. This dynamic engine isn't just for show; it's designed to deliver exhilarating performance, whether you're accelerating onto the open highway or maneuvering through winding backroads.
What sets the Jetta GLI apart is its versatility. Enthusiasts can revel in the control and engagement provided by the 6-speed manual transmission, while those who prefer an effortless driving experience can opt for the 7-speed DSG® with Tiptronic® automatic transmission. For the purists, the manual transmission offers the thrill of reaching 0-60 mph in just 6.1 seconds, providing a taste of the sedan's sporty essence.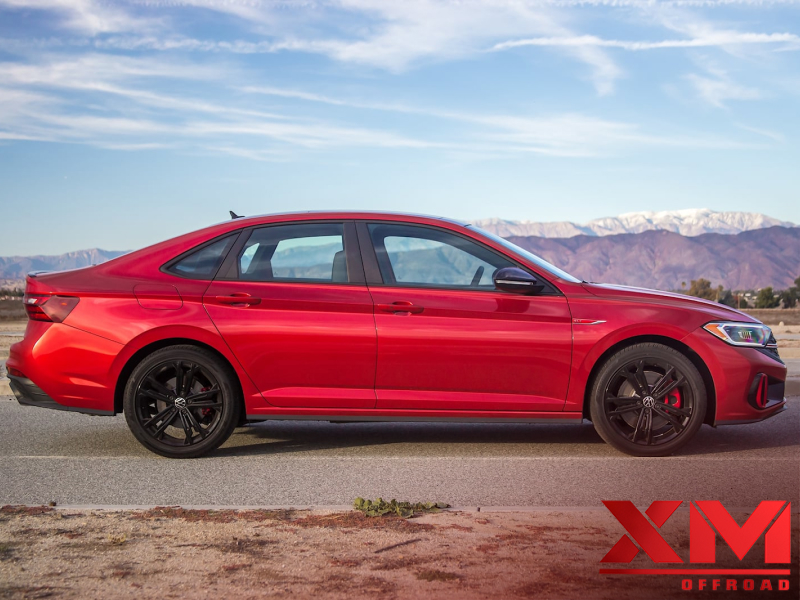 The 2023 Jetta GLI boasts a powerful 2.0 TSI engine that promises impressive figures and offers a choice of transmissions to cater to diverse driving preferences. Whether you're seeking pure manual control or a seamless automatic experience, the Jetta GLI delivers on the promise of spirited, dynamic driving.
Design and Comfort Redefined
The Jetta GLI isn't just a great performer and a showpiece of bold and interesting design. Its outside is a mixture of eye-catching features, including a red line that makes it stand out, and two exhaust pipes in the back. The GLI has a sporty and confident look thanks to these design cues, which make it stand out in any crowd.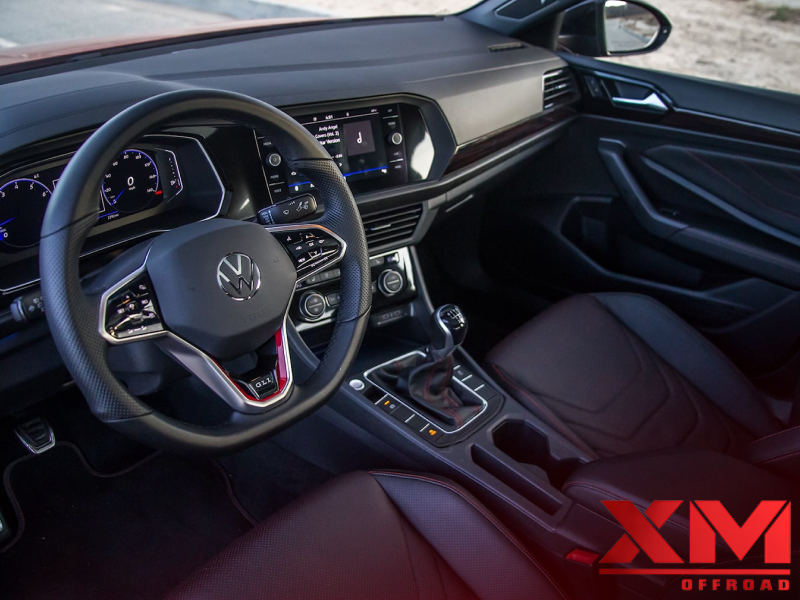 As soon as you step inside, you'll find a large, cozy cabin full of the latest technology. The 10.25″ Digital Cockpit Pro is the main feature. It has an easy-to-use design that can be changed to fit your needs. Besides that, it comes with Wireless Apple CarPlay® and Android AutoTM, which makes it easy to stay connected while driving.
Its exterior has unique features that give it a fast and bold look. Inside, it's roomy and equipped with the latest technology to make sure you have a fun and connected driving experience.
Technology and Convenience: Elevating Your Driving Experience
In the realm of technology and convenience, the Jetta GLI is a true standout. It's equipped with Volkswagen's innovative Car-Net® app, a treasure trove of over 20 connected features designed to elevate your driving experience. With this app, you can harness the power of location services to locate parking spaces effortlessly and even set alerts to monitor your vehicle's status. The goal is simple – to make your drive more convenient and stress-free so you can focus on enjoying the journey.

IQ.DRIVE and Driver Assistance: Prioritizing Safety and Innovation
Safety takes center stage in the 2023 Jetta GLI. It's not just about performance and style; it's also about peace of mind—the IQ.DRIVE suite is a testament to this commitment, featuring an array of advanced safety technologies. From Adaptive Cruise Control to Lane Assist, Emergency Assist, Blind Spot Monitor with Rear Traffic Alert, and Autonomous Emergency Braking, these features work harmoniously to keep you and those around you safe while on the road.
Furthermore, the Jetta GLI enhances your driving experience with cutting-edge technology. Features like Light Assist ensure you have the best visibility possible, regardless of the driving conditions.
The 2023 Jetta GLI doesn't merely focus on performance and style; it also takes your safety and driving experience to the next level with a range of technological innovations that make each journey safer and more enjoyable.
Choose Your Drive: Tailored for Your Preferences
One of the standout features of the 2023 Volkswagen Jetta GLI is its commitment to providing a personalized driving experience. You have the power to choose the driving style that suits you best. The options are clear: opt for the standard 6-speed Manual Transmission for an engaging and hands-on driving experience that enthusiasts adore.
If you prefer a more relaxed commuting experience, there's the available 8-speed Automatic transmission that offers seamless and effortless driving. Additionally, the key fob remote start and the Car-Net® Remote Start options ensure that starting your GLI is a breeze, whether you're in the mood for a brisk morning drive or a warm, cozy cabin during the colder months.
Buyer's Guide: Your Roadmap to Customization
The Buyer's Guide is a valuable compass for those considering the 2023 Jetta GLI. This comprehensive guide provides an in-depth overview of the available trims, interior and exterior color choices, and the range of packages that allow for personalization.
Whether you're seeking specific features or a unique look for your Jetta GLI, this resource is your go-to guide to exploring the myriad options available for customization. It lets you dictate your driving experience with transmission choices, and the Buyer's Guide equips you with all the information you need to tailor your Jetta GLI to your exact preferences.
Conclusion: A Sedan Like No Other
The 2023 Volkswagen Jetta GLI isn't your average car. The unexpected mix of fast performance, elegant style, and cutting-edge technology creates an amazing driving experience. The Jetta GLI is a great car for a lot of different types of people, from thrill-seeking drivers to people who just want a stylish, comfy, and fun everyday driver.
This car is very flexible, so you can enjoy its power, style, and ease of use. You'll know this isn't a normal car as soon as you see its unique outside, which features a bright red pinstripe and two exhaust pipes.
With 228 horsepower and a choice of a 6-speed manual or an 8-speed automatic transmission, you're sure to find the right gear for the way you drive. On the tech side, the 10.25″ Digital Cockpit Pro and Car-Net® connection always keeps you connected to the digital world.
Read Also: Exploring the Market – Top SUVs with Third-Row Seating
The 2023 Jetta GLI is a fun and useful pick. It's a car with a twist; it has the best of both worlds: sporty speed and stylish comfort all in one powerful package.
FAQs
Q1) What kind of ground does the XMudder wheel choice work on?
The Xmudder wheels are made to be flexible, so they can be used on a variety of surfaces. The high-performance wheels on these bikes give you great grip and stability whether you're riding on city streets, roads, or off-road trails. So, the Xmudder wheels are great for both traveling in cities and going on trips off-road.
Q2) Can I change the Jetta GLI's gears from manual to 7-speed DSG®?
Yes, you can choose between the 6-speed manual transmission and the 7-speed DSG® with Tiptronic® automatic transmission in the 2023 Jetta GLI. This means that if you want a more hands-on driving experience, you can choose the manual transmission's fun controls. On the other hand, if you want a smooth and easy drive, the DSG® automatic transmission is there for you. You have a choice, and you can move between these options based on how you like to drive.
Q3) What safety measures does the 2023 Jetta GLI IQ? Does the DRIVE suite come with?
In the 2023 Jetta GLI, the IQ.DRIVE package is full of high-tech safety features. Adaptive Cruise Control, Lane Assist, Emergency Assist, Blind Spot Monitor with Rear Traffic Alert, and Autonomous Emergency Braking are a few of these. These technologies are meant to make you safer and give you peace of mind while you're driving. The IQ.DRIVE suite puts your safety first, with features like adaptive cruise control and accident prevention systems. This makes sure you have a safe driving experience.