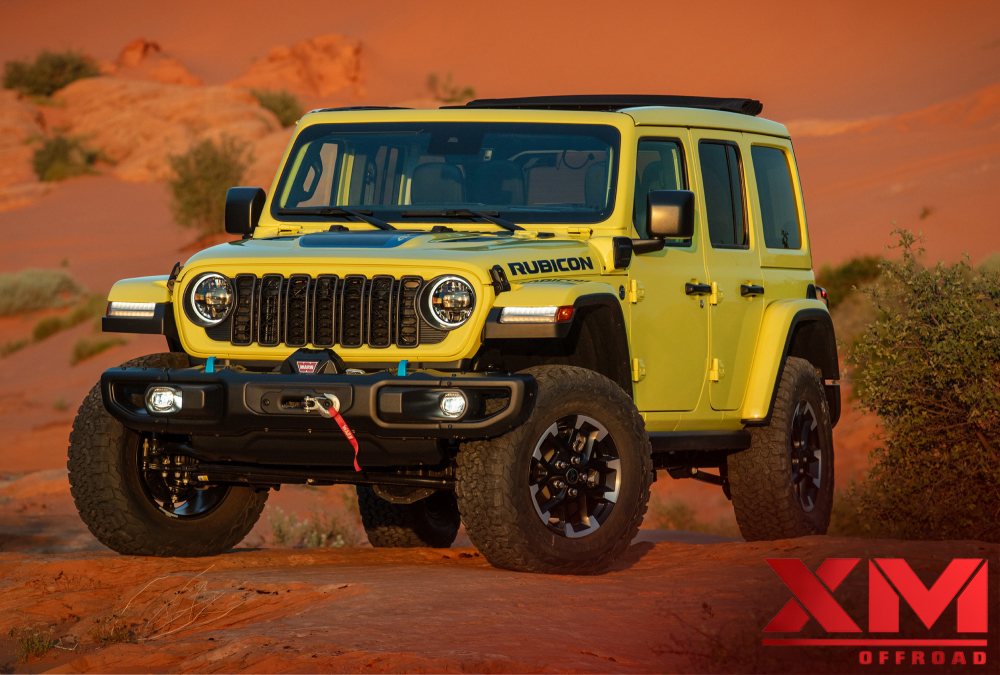 Adventure Awaits with the 2023 Jeep Wrangler: Unleash Your Wanderlust
The Jeep Wrangler has always been known for its sense of adventure, and the 2023 model takes that reputation to heights. Whether you're planning a weekend getaway, in the mountains, a country road trip, or an exciting off-road experience, this versatile SUV has got you covered.
Unmatched Off-Roading Abilities
One of the standout features that make the 2023 Jeep Wrangler perfect for adventure enthusiasts is its roading capabilities. With its four-wheel drive system, suspension, and impressive ground clearance, it excels at conquering terrains. From mud to snow to rocks and sand. The Wrangler can handle it all with ease. When you need traction and control during your boldest escapades, look no further than the top tier XM wheels designed to provide stability and reliability.

Prioritizing Safety
In the 2023 Wrangler, safety comes first and foremost. Advanced safety features such, as cruise control, blind spot monitoring, and multiple airbags offer reassurance as you set off on your exploration of territories.
Endless Personalization Options
Customize your Jeep Wrangler with an array of choices and accessories. Whether it's tops and doors, for that open-air feel, or additional storage solutions, you can tailor your Jeep to match your unique adventure style.

Comfortable Interior & Advanced Technology
Adventure awaits!!!
Stop compromising on comfort. The 2023 Jeep Wrangler showcases a designed interior with technology and high-quality materials. Stay connected with the system while enjoying comfortable seating that ensures a relaxed experience even on long journeys.
The Timeless Patriotism Embodied by the Jeep Wrangler
Since its inception, the Jeep Wrangler has symbolized patriotism, drawing inspiration from the military Willys Jeeps that played a crucial role in the Allied victory during World War II. Throughout the years, the Wrangler has evolved from its heritage to embrace an identity.
It has now even made its presence felt in the luxury market with price and feature upgrades. Offering a range of fuel powertrains and two distinct body styles, the Wrangler has expanded its appeal to cater to all adventure enthusiasts. Among its models is a plug-in hybrid version. However, the Rubicon 392—a range-topping variant powered by a 470 horsepower V 8 engine- lies at the pinnacle of ruggedness.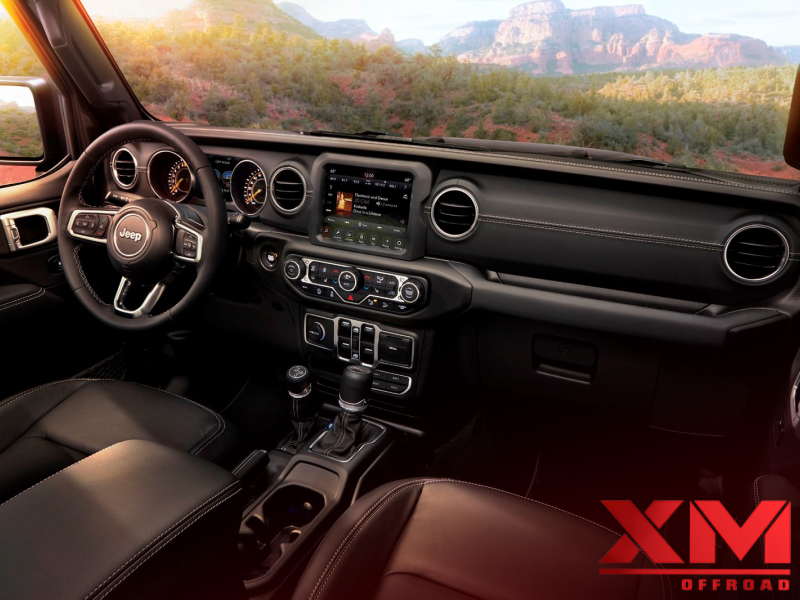 All Wranglers are equipped with four-wheel drive and a range of, off-road features that make them capable of conquering any terrain long as the driver has the necessary skills. However, when it comes to on-road performance, the Wrangler does have some drawbacks.
It can be rough over surfaces the steering may feel less precise on highways. It may not offer as much convenience for everyday tasks. Despite these flaws, the Jeep Wrangler has a fanbase who wouldn't trade it for any off-road vehicle, not even the Ford Bronco or Toyota 4Runner.
What's New in 2023?
In 2023, the Freedom Edition will be added to the Wrangler lineup. This special edition features a military-inspired design. Comes with a robust steel front bumper and protective rock rails on the sides.
The Rubicon variant also gets updated 17-inch wheel designs while two new paint colors, Earl and Reign, are introduced, adding an element of surprise without revealing their hues. To maintain its connection with its origins while keeping costs reasonable, many enthusiasts prefer the two-door Wrangler model, which comes with a cloth top.
The Wrangler Sport S is a choice for those seeking comfort and convenience. It has air conditioning, a leather-wrapped steering wheel, power windows and locks, automatic headlights, heated mirrors, and more.
Many people prefer the 270 horsepower 2.0 liter turbocharged four-cylinder engine, which offers 295 pound-feet of torque—35 pound-feet more than the V 6 engine. This engine also boasts an eight-speed transmission, which makes it perfect for effortless trail driving. Moreover, the Technology package adds appeal by providing a larger 7.0-inch touchscreen and compatibility with Android Auto and Apple CarPlay.
Power and Performance on Every Trail
Under the hood of the 2023 Jeep Wrangler, you'll find a 285-hp 3.6-liter V-6 engine, continuing the legacy from the previous-generation Wrangler. This engine can be paired with either a six-speed manual gearbox or a smooth-shifting eight-speed automatic. For those seeking additional low-end power, a turbocharged four-cylinder engine is available, which collaborates with an electric motor.
The Wrangler offers diverse powertrains, including a 3.6-liter V-6 with hybrid assist, a 3.0-liter diesel V-6, a 375-hp plug-in hybrid 4xe powertrain, and an imposing 6.4-liter V-8. Across the range, part-time four-wheel drive is standard and controlled by a lever on the center console, ensuring off-road readiness. In performance tests, the Wrangler demonstrates its agility, with a base two-door Wrangler Sport reaching 60 mph in just 6.1 seconds, while the well-equipped four-door Sahara model with an automatic transmission accomplishes the same in 6.8 seconds.
The four-cylinder hybrid powertrain in the Sahara completes the sprint in 6.5 seconds. However, the Rubicon and High Tide models were slightly slower with their additional off-road equipment. Although the Wrangler has improved significantly compared to its predecessors, it maintains its rugged character and holds its own against competitors in various metrics.
While it has enhanced its handling, it remains distinctively trucklike when compared to more refined SUVs and pickups. On the road, the four-door model offers an acceptably smooth ride over rough terrain, although braking distances exhibited some variability during testing.
Wrapping Up! The Wrangler – An American Icon
The 2023 Jeep Wrangler embodies the enduring spirit of American adventure and patriotism. From its origins as a military workhorse to its modern civilian form, the Wrangler has remained a symbol of ruggedness and off-road capability. With a range of models, powertrains, and features, it appeals to a diverse audience of enthusiasts.
The Wrangler's top-tier model, the Rubicon 392, with its 470-hp V-8 engine, epitomizes American muscle and performance. Despite its exceptional off-road prowess, the Wrangler does have its limitations when it comes to on-road comfort and convenience.
Read Also: 2022 Honda Accord Interior Features in Detail
However, these shortcomings do little to deter its loyal fanbase, which remains steadfast in its love for this iconic American SUV. In 2023, the Jeep Wrangler continues to captivate hearts and minds, combining heritage with innovation and reminding us of the enduring allure of the open road.
The 2023 Jeep Wrangler isn't just a vehicle; it's a ticket to a world of adventure. With its off-road prowess, comfortable interior, and unmatched customizability, you're well-equipped to explore the road less traveled. So, gear up and discover new horizons – adventure truly awaits with the 2023 Jeep Wrangler and its trusty Xmudder wheels.
FAQs
Q1) How well does the 2023 Jeep Wrangler do when it comes to going off-road?
The 2023 Jeep Wrangler is famous for being able to go off-road very well. It can handle rough terrains easily thanks to its strong four-wheel drive system, long-lasting suspension, and high ground clearance. The Wrangler can handle it if you need to go through mud, snow, rocks, or sand. The best Xmudder wheels are made to give you the grip and control you need for extra stability and dependability on your most risky adventures.
Q2) Does the 2023 Jeep Wrangler have up-to-date technology and safety features?
The 2023 Jeep Wrangler is both a beast off-road and a modern car that puts comfort and safety first. The inside is well-designed and has the newest entertainment system to keep you linked. This car puts safety first, with advanced features like adaptive cruise control, blind-spot monitoring, and multiple airbags to give you peace of mind as you drive into the unknown.
Q3) What can I change about the 2023 Jeep Wrangler to make it fit my way of adventure?
Of course! The 2023 Jeep Wrangler can be changed in a lot of different ways. You can make your Wrangler unique by adding a lot of different options and equipment, such as moveable roofs and doors for more open-air fun and extra storage space. You can make your Jeep fit your adventure tastes perfectly with this level of customization, making every trip truly your own.