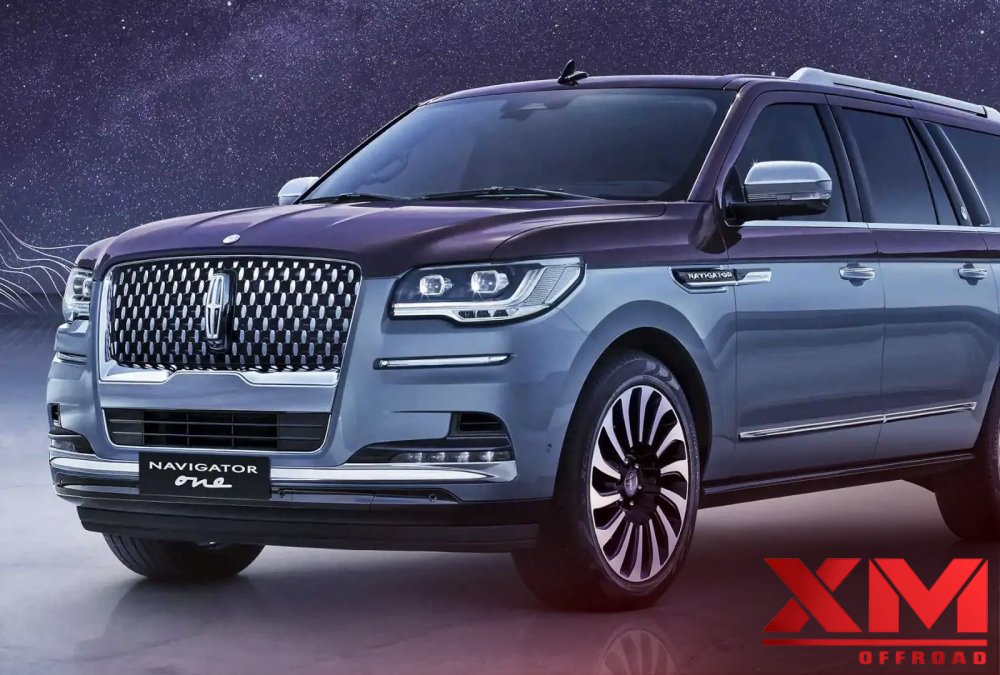 A Luxury Glimpse at the 2023 Lincoln Navigator
In the world of luxury and elegance, the 2023 Lincoln Navigator stands tall as an example of opulence and sophistication. This iconic SUV invites you on a journey providing a glimpse into a realm where comfort, performance, and innovation seamlessly merge. One notable feature that sets it apart is the XM Offroad wheels, which add a touch, to this masterpiece.
A Powerhouse in Terms of Performance
When it comes to the luxury glimpse of SUVs, the 2023 Lincoln Navigator is a formidable competitor thanks to its extensive list of features, which establish it as a force to be reckoned with. Under the hood of this beast is a strong 3.5-liter V6 engine that generates 440 horsepower at 5,850 revolutions per minute (RPM).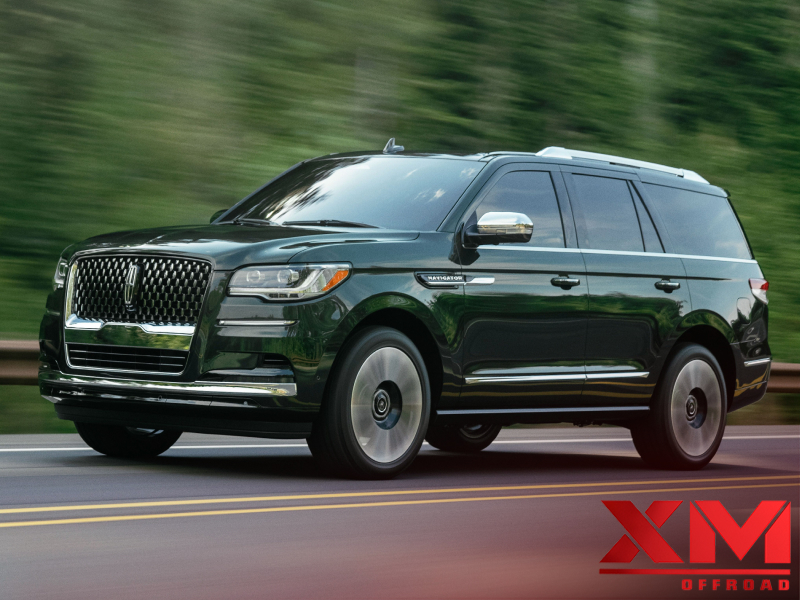 This engine produces 510 pound-feet of torque at 3,000 revolutions per minute, which enables the Navigator to easily overcome any terrain or road that lies in its path. The V6 engine's overhead cam (DOHC) architecture and its 24 valves further contribute to its performance. The V6 engine's performance is further increased by the direct injection system that comes standard since it maximizes fuel economy.
Capabilities of both towing and hauling
For those who demand features like towing and hauling, you can have peace of mind in the knowledge that the dependable companion known as the 2023 Lincoln Navigator has got you covered. It is more than capable of handling loads, with a towing capability of up to 8,300 pounds. This is true whether you are towing a trailer for a memorable family excursion or hauling equipment for work purposes.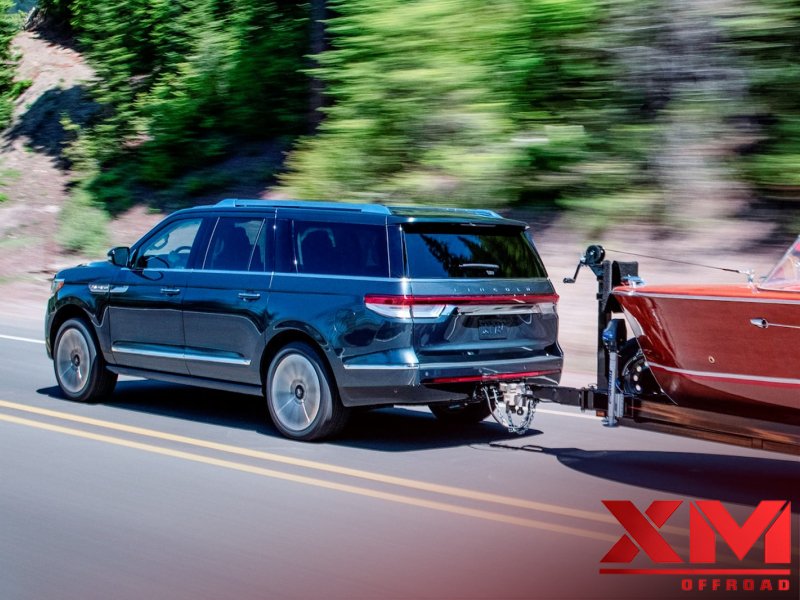 The Navigator has a drivetrain that can handle towing duties owing to its 10-gear shiftable automatic transmission and its standard four-wheel drive system.
Size and flexibility that are very impressive
The 2023 Lincoln Navigator is more than a vehicle; it's an SUV with versatile capabilities. It boasts dimensions measuring 210.0 inches in length and 93.8 inches in width (including the mirrors) and offers a cargo capacity of 103.3 cubic feet when the rear seats are folded down.
Notably, this SUV can effortlessly tow up to 8,300 pounds. Provides storage space. These attributes make it an excellent choice for individuals who value both aesthetics and functionality in their vehicle. Additionally, the Navigator offers safety features such as a ground clearance of 9.6 inches an approach angle of 22.2 degrees, and an exit angle of 21.9 degrees—making it suitable, for various terrains.
A Range of Elegant Colors
In addition to its performance and practical features, the 2023 Lincoln Navigator offers a selection of exterior colors for you to choose from. From Silver Radiance Metallic Clearcoat to Diamond Red Tri-Coat, Infinite Black Metallic Clearcoat to Pristine White Metallic Tri-Coat, and Ceramic Pearl Metallic Tri-Coat, to Starlight Gray Premium – this luxury SUV enables you to select the finish that perfectly matches your style and preferences.
These vibrant hues, along with the design and impressive presence of the Navigator make it an eye-catching vehicle that captures attention wherever it goes.
Introducing the Xmudder Wheels
Xmudder Wheels, renowned for their performance and stylish design elevate the luxury of the Lincoln Navigator to new levels. These wheels are not just an amazing add-on; in fact, they symbolize the brand's dedication to perfection. Meticulously crafted and engineered for traction – Xmudder Wheels guarantee a fashionable ride whether you're navigating city streets or embarking on thrilling off-road escapades.
Experience the retreat of the 2023 Lincoln Navigator cabin. As you step inside you'll be enveloped in a world of elegance and comfort. From the leather seats to the wood accents and soft ambient lighting, every detail has been meticulously crafted to redefine luxury. This commitment to providing a sanctuary of opulence is what sets Lincoln apart.
Get ready to be amazed by the cutting-edge technology found in the Navigators system. With its user interface, it offers a seamless connectivity experience and an immersive audio journey. The 2023 model comes with enhanced features that ensure you stay connected and entertained throughout your trip.
Underneath its hood, the 2023 Lincoln Navigator boasts an engine that delivers performance without compromising on refinement. Whether you're cruising on city streets or tackling terrains this SUV offers handling and agility that makes every drive a joy.
Safety is paramount, in the 2023 Lincoln Navigator. Equipped with driver assistance features and a comprehensive suite of safety technologies you can embark on your journeys with confidence knowing that both you and your passengers are well protected.
Conclusion: The Epitome of Luxury
In the world of luxury SUVs, the 2023 Lincoln Navigator stands out as a pinnacle of opulence and comfort. With Xmudder Wheels enhancing its performance and style, it offers a unique and captivating experience. This SUV is more than just a way to get around; it's a show of style and class. The 2023 Lincoln Navigator is a luxurious look into a world of perfect cars, whether you're looking for a daily driver or a car for special events.
Read Also: Adventure Awaits with the 2023 Jeep Wrangler: Unleash Your Wanderlust
To sum up, the 2023 Lincoln Navigator is more than just a fancy SUV; it's a mix of speed, flexibility, and style. It meets the needs of many people thanks to its strong engine, amazing driving power, roomy interior, and stylish color choices. The 2023 Lincoln Navigator is both a luxury and useful choice, whether you need a car to chauffeur your family around in style or a reliable workhorse for pulling and carrying.
FAQs
Q1) How much gas does the 2023 Lincoln Navigator use?
As for gas mileage, the 2023 Lincoln Navigator gets 16 MPG in the city and 22 MPG on the highway, for a total of 18 MPG. For a full-sized luxury SUV, this makes it a pretty good choice.
Q2) Can the 2023 Lincoln Navigator fit a big family?
Of course! The 2023 Lincoln Navigator can fit up to seven people, which makes it a great choice for big families. Its large interior and high-class cabin make sure that all of its guests journey in ease and style.
Q3) What is unique about the 2023 Lincoln Navigator's Xmudder Wheels?
Answer: Xmudder Wheels are famous for how well they work and how well they're made. These wheels are carefully made to have great grip, which makes sure that the ride is smooth and stylish. The Xmudder Wheels make the Navigator look better and perform better, whether you're driving in the city or going on off-road activities.
Q4) How much weight can the 2023 Lincoln Navigator pull?
The highest weight that the 2023 Lincoln Navigator can pull is an amazing 8,300 pounds. It's a great choice for people who need to tow boats, trailers, or other big things while still wanting the ease and style of a high-end SUV.
Q5) Is the 2023 Lincoln Navigator made in the United States?
That's right, the 2023 Lincoln Navigator is proudly made in the United States. This luxury SUV, which was made in the United States, is a sign of automobile pride because it is a mix of American craftsmanship and global greatness.