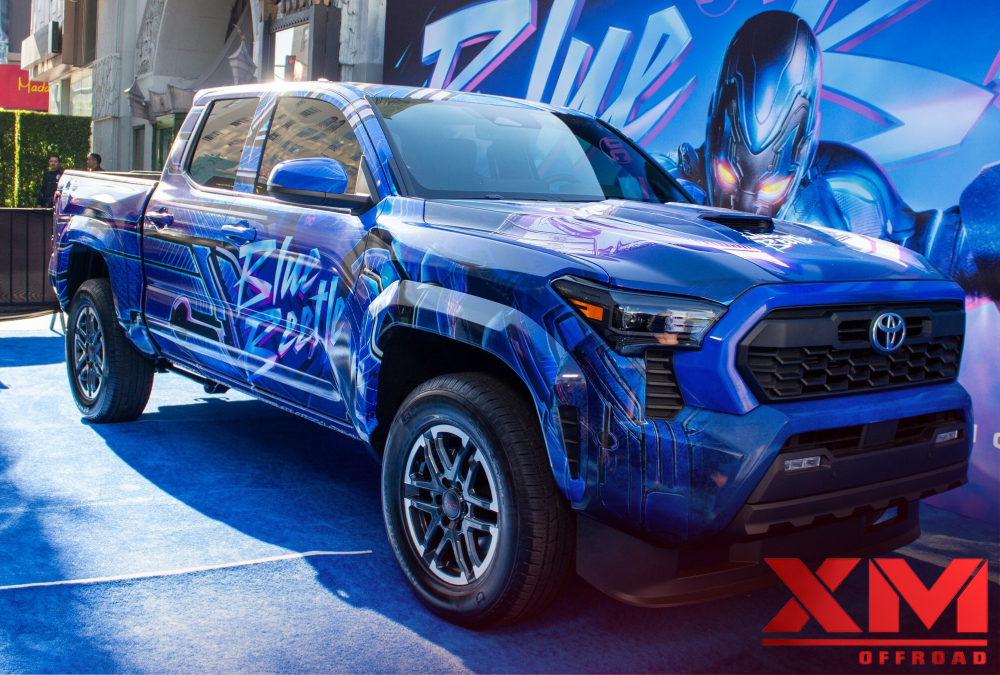 Anticipating the 2024 Toyota Tacoma: What's New?
The automotive industry is always buzzing with excitement as a new year approaches. 2024 is certainly no different. Truck enthusiasts in particular are eagerly anticipating the arrival of the 2024 Toyota Tacoma. Renowned for its ruggedness and versatile capabilities the Tacoma has been a presence, in the midsize pickup truck segment for quite some time. So what can we expect from the 2024 Toyota Tacoma? Let's delve into the specifics.
1. Revamped Design
One of the things that catches your eye about the 2024 Tacoma is its refreshed design. Toyota has taken a step in giving Tacoma a modern look while maintaining its distinct ruggedness. Anticipate lines, a striking front grille, and sleeker LED headlights.

2. Enhanced Performance:
Toyota has always been at the forefront of automotive performance innovation and this holds true for the 2024 Tacoma well. With various engine options available, including a V6 engine expect fuel efficiency without compromising on its legendary XM Offroad wheels capabilities.

3. Upgraded Technology:
Inside the cabin, Toyota is bringing the Tacoma up to speed, with state-of-the-art features. An updated infotainment system, seamless smartphone integration, and advanced driver assistance systems will be included in this package. Prepare yourself for a safer driving experience.

4. Interior Quality:
The focus, on comfort and quality in the 2024 Tacoma is evident. Toyota has made improvements to the materials, ergonomics, and cabin space to enhance the driving experience for both passengers and the driver. Whether it's a road trip or a daily commute you'll notice the attention to detail.
5. Trim Levels and Options:
Toyota will provide a variety of trim levels and extras to let buyers customize their Tacoma. A Tacoma may be a workhorse or an exciting weekend companion.
6. Focus
Toyota values sustainability in its automobiles in today's mindful society. The 2024 Tacoma may include engine options for a more sustainable driving experience without sacrificing power or performance.
7. Pricing and Availability:
Toyota has not yet revealed pricing and availability for the 2024 Tacoma. Given its popularity, it may be sold at marketplaces.
Power and Versatility:
The heart of the 2024 Toyota Tacoma is its powerful engine lineup. The entry-level models are equipped with a turbocharged 2.4L four-cylinder engine that boasts an impressive 228 HP and 243 lb-ft of torque. This provides ample power for everyday driving and light-duty hauling. However, for those who crave more, the other grades of the Tacoma offer an even more robust output of 278 HP and a remarkable 317 lb-ft of torque.
This increased power is coupled with a new 8-speed electronically controlled automatic transmission, which ensures smooth and efficient gear shifts. For those who prefer a manual transmission, an available 6-speed intelligent manual transmission with automatic rev-matching is on offer, making every gear change a seamless experience.
The 2024 Tacoma offers impressive power options, ranging from the standard four-cylinder engine to the more robust powertrains, ensuring that there's a Tacoma for every kind of driver.
Hybrid Powertrain Excellence:
Adding the i-FORCE MAX hybrid engine to the 2024 Toyota Tacoma is what really makes it stand out. The 2.4L engine, a 48-HP electric motor, and an 8-speed automatic drive make up this cutting-edge hybrid system. With this one-of-a-kind mix, the engine makes an amazing 326 net horsepower and 465 lb-ft of low-end torque at 1700 rpm.
Our hybrid engine is not only powerful, but it also uses fuel much more efficiently, which makes it a great choice for people who care about the environment. Putting the hybrid engine in the Tacoma shows that Toyota wants to combine speed and environmental friendliness.
Off-Road Prowess:
The 2024 Toyota Tacoma is renowned for its off-road capabilities, and this model takes it up a notch. With features like a multi-link rear suspension, a Stabilizer Disconnect Mechanism, and Multi-Terrain Select, it's prepared for whatever the wilderness throws at it.
The addition of the new Crawl Control function is particularly noteworthy, as it functions as a low-speed, off-road cruise control, allowing drivers to maintain one of five selectable speeds while traversing rugged terrain. Whether you're conquering rocky trails or exploring off-the-beaten-path destinations, the Tacoma's off-road prowess is unmatched in its class.
Drive Modes and Traction Control:
The 2024 Tacoma offers various drive modes to suit different driving conditions. In 4WD models, you'll find an electronically controlled two-speed transfer case with high/low range, Active Traction Control, and an automatic limited-slip differential, ensuring optimal traction and stability in various terrains.
For those who demand more control, the Tacoma's full-time 4WD system features a center-locking differential, providing additional traction and control.
Multi-Terrain Select allows drivers to adjust their settings for 4WD-High and 4WD-Low modes, adapting the vehicle's performance to the terrain. Additionally, the inclusion of Downhill Assist Control ensures that steep descents are managed with ease, enhancing driver confidence in challenging off-road situations.
To experience the full potential of your 2024 Toyota Tacoma's off-road capabilities, don't miss out on the ultimate upgrade – Xmudder Wheels. Enhance your truck's performance and style with these rugged, top-of-the-line wheels. Take your adventures to the next level with Xmudder Wheels and conquer any terrain with confidence. Get ready to roll with precision and power. Upgrade your Tacoma today!
Conclusion
With many great new features, the 2024 Toyota Tacoma is set to become the best midsize pickup truck on the market. It's made to meet the needs of all kinds of drivers, with different engine choices and the ability to go off-road.
The 2024 Toyota Tacoma shows that Toyota is dedicated to speed and new ideas. This model is the clear winner in the midsize pickup truck market, thanks to its superior off-road abilities and range of powerful powertrains, such as the innovative i-FORCE MAX hybrid.
It's more than just a car; it's a strong and flexible partner for drivers who want to find excitement and dependability in their daily lives. The 2024 Toyota Tacoma is expected to be the best pickup truck ever because it has the right mix of power, fuel efficiency, and off-road performance.
Read Also: A Luxury Glimpse at the 2023 Lincoln Navigator
People are really looking forward to the 2024 Toyota Tacoma. With a new look, better speed, more advanced technology, and a continued focus on off-road capability, the Tacoma looks like it will stay a top choice in the medium pickup truck segment. The 2024 Tacoma is going to make a big difference in the car market, whether you're a loyal fan or thinking about buying one for the first time.
FAQs
Q1) What are the most important changes from the last model year to the 2024 Toyota Tacoma?
The 2024 Toyota Tacoma has a new look that combines innovation with the toughness that has made it famous. The Tacoma will have crisper lines, a bigger front grille, and better-LED headlights. This will give it a new look while staying true to its roots.
Q2) Could you tell me more about the i-FORCE MAX hybrid engine and what it can do for me?
The i-FORCE MAX hybrid engine is a great upgrade to the 2024 Tacoma. It has a 2.4L engine and a 48-HP electric motor working together to give it an amazing 326 net horsepower and 465 lb-ft of low-end torque. This power doesn't just improve performance; it also saves gas, which makes the Tacoma an environmentally friendly choice that doesn't skimp on power.
Q 3) How well does the 2024 Toyota Tacoma handle off-road terrain? What makes it special in this area?
One of the best things about the 2024 Toyota Tacoma is that it can go off-road. It has a Multi-Terrain Select system, a Stabilizer Disconnect Mechanism, and a multi-link rear suspension. This lets you change how well the car performs on different types of terrain.
The new Crawl Control function is one of the best parts. It works like an off-road cruise control at low speeds. This, along with other features, makes the Tacoma ready to easily handle rough and difficult off-road situations.
Tags In