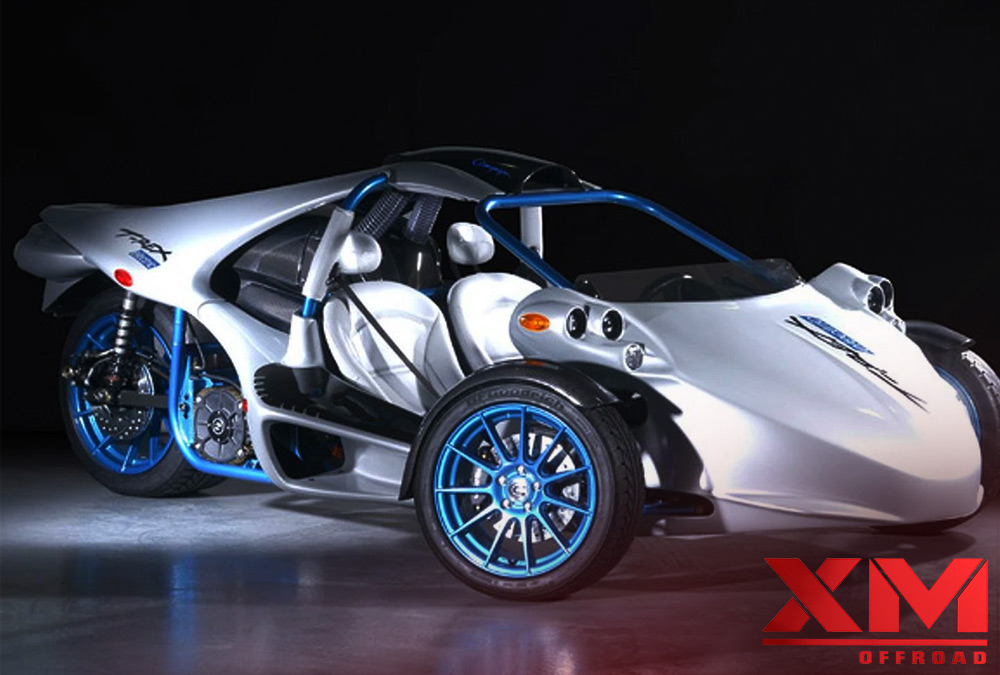 10 Awesome Three-Wheeled Vehicles You Would Love to Drive
In the automotive world, three-wheelers still hold the status of something unique and novel to people. But there is no doubt that these gimp-legged cars have recently gained much popularity. It's hard not to look at these three-wheelers and see them as modern vehicles with many companies and lesser-known firms.
Some three-wheeler cars have established a place in the hearts of their fans by offering different styles across the world, and most car users like and are used to them. Some of the three-wheelers in this catalog never made it to the real world, and they are still a dream. Some have become people pleasers in their own right. Whatever their status in the world today, the main thing about all of them is that driving them will be the best experience of our lives.
What is a Three-Wheel Car?
A three-wheeled car is in its simplest form. Cars with Three-Wheel are often called autocycles, three-wheeled cars, or simply three-wheelers. The first car model was introduced in 1885, and many different models have been made. But it is good to say that autocycles will always exist on the market, just like trike motorcycles.

Here are the 10 coolest and most thrilling three-wheelers:
1. Campagna T -Rex
A BMW-sourced 1.6-liter straight-six engine powers it. The Campagna T-Rex is a two-seat, created by Campagna Motors, located in Quebec, Canada. It was registered as a motorcycle; now, it is primarily considered a "three-wheeler." It can accommodate the driver and a single passenger side-by-side, with adjustable seat backs, a foot-pedal box, and retractable three-point seat belts. It is pretty good for a three-wheeler that costs around $70,000.

2. Polaris SlingShot
The Polaris Slingshot is a three-wheeled motorcycle. The first edition of the car model was introduced in 2014 as a 2015 model. It has Three-point seat belts fitted; however, it has no airbags or crumple zone. Begin with the 2020 model year; the Slingshot is powered by a 2.0 liter inline four-cylinder gasoline-powered Polaris ProStar Engine that produces 203 hp (151 kW) at 8250 RPM and 144 lb-ft (195 N•m) of torque at 6500 RPM. The Slingshot was powered by a GM-sourced 2.4 liter Ecotec inline-four that produced 173 hp (129 kW) at 6200 RPM. It has 166 lb-ft (225 N m) of torque at 4700 RPM. It is faster than a lot of today's more potent sports cars.

3. Volkswagen GX3
The Volkswagen GX3 was a concept car created by the Moonraker Project. The GX3 was first shown at the 2006 Greater Los Angeles Auto Show. It used a six-speed manual transmission. And it also came with impressive power and performance figures. This vehicle produces 120 horsepower and 112 pound-feet of torque. A 1.6-liter four-cylinder engine powered it. Alas, Volkswagen's best-laid plans never materialized. The GX3 was eventually phased out in part due to liability concerns. It's a pity that the GX3 was only supposed to cost $17,000.
4. Marotti
It isn't easy to know about Maruti and how it looks. Most say the Maruti can hit 60 mph from a standstill in just five seconds before reaching a top speed of 118 mph. The three-wheeler initially came with a pedestrian 0.75-liter Honda V4 engine with 17-inch wheels. A Polish company has given it Marottie-like power and boosted it with a 1.4-liter engine that can now produce up to 190 horsepower. These are impressive figures for a three-wheeler, let alone one that looks like a Maruti. Many automakers today can give a worn-out, used car a new look by using "red rims" on their vehicles.
5. ELIO P5
The Elio Motors P5 is an excellent example of this. Unveiled in 2015, the P5 was a funky three-wheeler in every way. The sharp nose gave it a sports car look and had a complete car profile, at least if you ignore the fact that it only had one car. The P5 didn't have a workhorse engine to do the job – this 0.9-liter unit produced 70 horsepower, enough to accelerate from a standstill to 60 mph in less than 10 seconds. Its fuel economy is excellent. Unfortunately, this three-wheeler came with a sticker price of just $6,800.
6. XR3
XR3 is a unique three-wheeler. The XR3 isn't something that you buy from the company and drive home with it. XR3's three-wheel platform and clamshell canopy set it apart from conventional passenger cars. Due to its hybrid power system, diesel engine, and low curb weight, this vehicle has excellent fuel economy and excellent performance. With acceleration equal to a conventional car and a top speed of 80 mph, the XR3 Hybrid is equally at home on the freeway and the streets. It's a sophisticated build. But the payoffs could be huge. Plan prices range from $99.50 to $200, and you are free to install whatever electric motor or engine you want.
7. Peugeot Egochine
The Peugeot Egochine is a three-wheeled supercar. Which certainly looks like a great razor with fancy LED lights, big wheels under curved fenders, and aggressive retro-futuristic styling. Unfortunately, the Peugeot Egochine is not an actual production vehicle. It doesn't go into much of a thought process. The concept was De Giusti's entry in one of Peugeot's design competitions in 2010, where he made it a finalist. It is an excellent achievement in itself.
8. MEV Trike
The other three-wheeler on this list is the MEV TRIKE, a DIY that will teach you how to build kit cars from the ground up. Not everyone can use it, but if you are up for the challenge and have the patience, you should buy a kit car and customize it. You can take it up to 235 horsepower by using Suzuki or Yamaha crate engines. Best of all, the kit costs $20,000. Many people find it too expensive, but if you have disposable income, you can consider building your MEV TRIKE.

9. Higgins-Aube E
Higgins-Aube Energy belongs to the Volkswagen GX3 category. Like the VW concept, the Canadian-born Energia is a 3-wheeled motorcycle car. Unfortunately, Energy has yet to be realized from concept to reality, and even today, it is a dream for people who love these types of rides. It's also a fact that Higgins-Aube made big promises when it announced the Energya, including the three-wheeler's ability to hit 60 mph in under four seconds. But we may never find out how much truth there was to Higgins-Aube's claims or whether those performance numbers are nothing but smoke.
10. Morgan Three-Wheeler
There are many three-wheelers in the market today. The most prominent Morgan three-wheeler in the market bring in 2012 and is still available in the market today. Morgan also added the EV3 in 2016, giving customers an electric version of the funky ride. Its OG 3-Wheeler is powered by a 1998cc V-Twin engine that produces 82 horsepower and 103 pound-feet of torque. Morgan weighs just 1,157 pounds (525 kg). Despite the pedestrian output of the engine, the 3-wheeler can still go.
FAQs About 3-Wheels Car
Three-Wheel Cars Prices
There are varying prices for 3-wheelers depending on which company sells them. It is possible to purchase kit cars for less than $10,000, but you are responsible for building the car from scratch. Alternatively, companies like Morgan and Campagna can buy one from the factory. The price of a Morgan 3-wheeler is around $45,000, while the price of a Campagna T-Rex is insane at $70,000.
Are 3-Wheel Cars Speed Fast?
There is no doubt that 3-wheel cars, or at least those with a decent engine, are fast. The engines don't produce gobsmacking amounts of power. Still, thanks to the weight of these vehicles, 3-wheelers deliver around the same power-to-weight ratio as many of today's established-performance cars do.
Are 3-wheelers More Dangerous than Cars?
By their physical makeup and the absence of any safety equipment that cars typically have, 3-wheelers are considering more dangerous than actual cars.
Are Three-Wheels Vehicles Worth Buying?
Several unique three-wheeled vehicles are popular for leisure travel, but most of them are expensive and not worth buying. There was a massive race to create the next revolutionary thing after the wheels transportation formulate.
Why Choose a Three-Wheeler Over a Car?
Somewhere in the middle is the world of three wheels. Some are cars, and some are motorcycles. Three-wheelers provide a unique driving experience that is sure to put a smile on your face. Nowadays, three-wheelers have a variety of choices for drivers.
Final Thoughts
There are many three-wheeler manufacturing companies in today's era. Who made their mark behind three-wheeled vehicles like the 3-Wheeler and the T-Rex? Other established firms have also experimented with their cars in the market, and some have been successful. When your commute is too slow, enjoying a Morgan ride can be a great way to cheer yourself up over coffee. With quilted leather upholstery, wire-spoke wheels, and a vintage-style dash with switchgear to match, the 3-Wheeler is a quintessentially British driving experience that no one can give you.