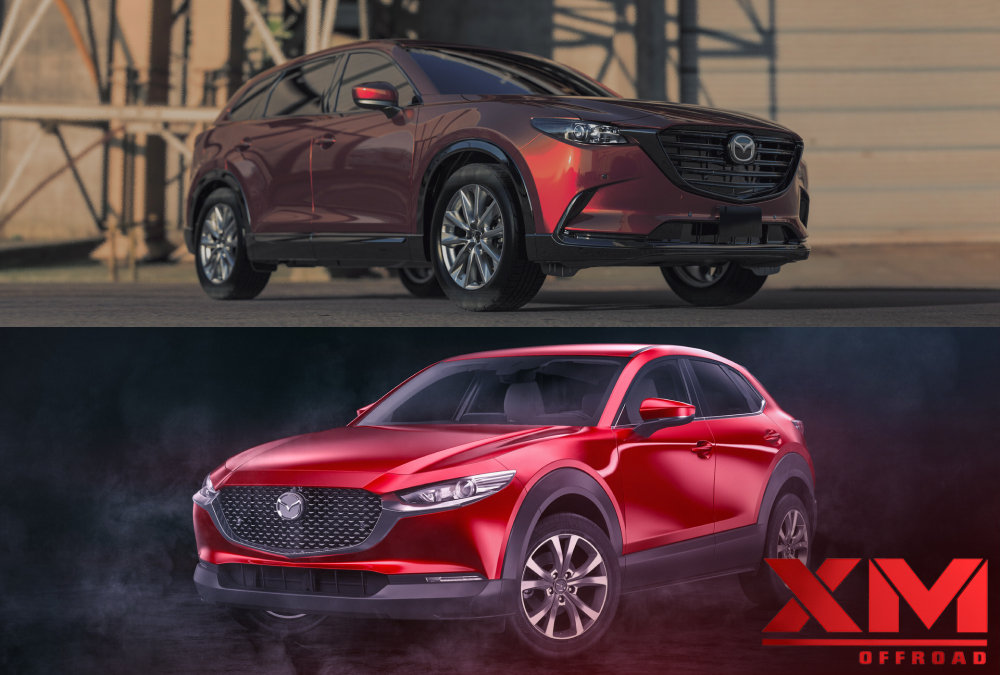 Mazda CX-5 Vs Mazda CX-30: Which is Better for You?
The automotive industry has seen a surge in the popularity of compact SUVs, and Mazda has successfully made its mark in this segment with the Mazda CX-30. But the 2023 Mazda CX-5 stands out as a remarkable vehicle that combines elegance, performance, and functionality. With its sleek design, advanced technology features, and outstanding driving dynamics, the CX-5 continues to be a favorite choice among SUV enthusiasts. In this blog, we will examine the attractive features of the Mazda CX-5 and Mazda CX-30 and find out which one will be a better SUV for you.
The Mazda CX-5
Exterior Design
Mazda's KODO design philosophy is prominently displayed in the 2023 CX-5, reflecting a sense of motion and dynamic energy. The front fascia boasts a bold and refined grille, flanked by slim LED headlights that lend the vehicle a modern and sophisticated look. The sleek profile features sweeping lines and muscular wheel arches, adding to its overall aesthetic appeal. The rear design incorporates sleek LED taillights and a dual exhaust system, further enhancing the CX-5's sporty and luxurious presence on the road.

Interior Comfort and Space
Step inside the 2023 Mazda CX-5, and you'll find a well-crafted and inviting cabin. Premium materials adorn the interior, exuding a sense of refinement and luxury. The driver-oriented cockpit offers easy access to controls and an ergonomic layout that ensures a comfortable driving experience. The spacious seating accommodates five passengers with ample legroom and headroom, making long journeys enjoyable for everyone. The rear seats can also be conveniently folded to provide additional cargo space when needed.

Technology and Connectivity
Mazda places a strong emphasis on infotainment and connectivity, and the 2023 CX-5 is no exception. The Mazda Connect system, displayed on a large and intuitive touchscreen, offers seamless integration with smartphones, allowing drivers to access their favorite apps, music, and navigation services effortlessly. The vehicle is equipped with an advanced sound system that provides an immersive audio experience, further enhancing the pleasure of every drive.
Performance and Efficiency
Under the hood, the 2023 Mazda CX-5 offers a range of powerful yet fuel-efficient engine options. The base engine is a responsive 2.5-liter four-cylinder, delivering ample power for everyday driving needs. For those seeking more performance, Mazda offers a turbocharged 2.5-liter engine, delivering exhilarating acceleration and an engaging driving experience. The CX-5's handling is precise and agile, thanks to Mazda's SKYACTIV technology, which optimizes performance without compromising fuel efficiency.

Safety Features
Mazda has always prioritized safety, and the 2023 CX-5 is equipped with an array of advanced safety features. The i-ACTIVSENSE suite includes features such as adaptive cruise control, lane-keeping assist, blind-spot monitoring, rear cross-traffic alert, and automatic emergency braking, best 30 inch wheels, all working together to provide a safe and secure driving environment. The CX-5's rigid body structure and advanced airbag system also contribute to its excellent safety ratings.
Driving Experience
The 2023 Mazda CX-5 offers a driving experience that is both comfortable and exhilarating. Its responsive steering and well-tuned suspension provide a smooth and controlled ride, whether you're navigating city streets or cruising on the highway. The quiet cabin effectively reduces road and wind noise, allowing for a serene and enjoyable journey. With its impressive performance, the CX-5 delivers a blend of power, agility, and refinement that sets it apart from its competitors.
The Mazda CX-30
Design and Exterior
The 2023 Mazda CX-30 continues Mazda's KODO design philosophy, which focuses on the harmonious blend of aesthetics and functionality. The exterior features a sculpted body with bold lines and contours, giving the CX-30 a sporty and dynamic presence on the road. The prominent grille and striking LED headlights contribute to its modern and aggressive stance. Mazda offers a range of vibrant and eye-catching color options, allowing owners to personalize their CX-30 to their tastes.
Interior and Comfort
Step inside the 2023 Mazda CX-30, and you'll find a refined and driver-focused interior. The use of premium materials and meticulous attention to detail give the interior a sense of luxury. The spacious seating provides excellent comfort for both the driver and passengers, making long journeys enjoyable. All controls are easily accessible in the ergonomically designed cockpit, which improves the entire driving experience. The available leather upholstery and refined trims further elevate the premium feel of the CX-30's interior.
Technology and Connectivity
Mazda has equipped 2023 CX-30 with an impressive array of technology features. At the center of it all is a large touchscreen infotainment system that supports Apple CarPlay and Android Auto integration, allowing seamless smartphone connectivity. The intuitive interface and user-friendly menus make it easy to access various functions, including navigation, media, and vehicle settings. The available premium audio system provides a rich and immersive sound experience, perfect for music lovers.
Safety and Driver-Assistance Features
Mazda prioritizes safety, and 2023 CX-30 reflects this commitment. The CX-30 Turbo is the fastest vehicle with a 0-60 mph time of under 6.4 seconds. The SUV comes with an extensive suite of advanced driver-assistance systems designed to enhance safety on the road. Features like adaptive cruise control, lane-keeping assist, blind-spot monitoring, and automatic emergency braking work together to provide peace of mind for both the driver and passengers. The CX-30's advanced safety features have earned it high ratings in independent crash tests, further solidifying its reputation as a safe and reliable vehicle.
Performance and Efficiency
The 2023 Mazda CX-30 offers a range of engine options to suit different driving preferences. For those seeking a more exhilarating experience, Mazda turbocharged engine delivers up to 250hp and 320Ib-ft of torque, providing a significant boost in performance. The CX-30's agile handling and precise steering make it a joy to drive, whether navigating city streets or exploring winding country roads.
Fuel Economy
The EPA estimates the CX-30's combined fuel economy at 29 mpg, which is on par with that of all-wheel drive-equipped competing SUVs. A turbocharged engine is also accessible from Mazda, with an EPA-estimated 25 mpg. That's underwhelming, but given the increase in strength, maybe it makes sense.
Mazda CX-5 Vs Mazda CX-30
When comparing the Mazda CX-5 and Mazda CX-30, it's important to consider your specific needs and preferences as they both offer different features and characteristics. Here's a breakdown of their key differences to help you decide which compact SUV is better for you:
Size and Space
Mazda CX-5 is larger than the CX-30. It is providing more interior space and cargo capacity. It comfortably seats five passengers. Mazda CX-30 Being smaller offers a more compact size, which can be advantageous for maneuverability and parking in urban environments. It can accommodate four passengers with ample legroom.
Performance and Power
Mazda CX-5 comes with a choice of two engine options: a base 2.5-liter four-cylinder engine and an available turbocharged 2.5-liter four-cylinder engine, providing more power and performance. Mazda CX-30 also has a 2.5-liter four-cylinder engine but does not offer a turbocharged option. While it delivers sufficient power, it may feel slightly less spirited compared to the CX-5.
Read Also: Unlocking Convenience: Exploring Remote Start in the Audi A7
Features and Technology
Both models offer similar features, including advanced safety systems, infotainment systems with touchscreen displays, smartphone integration, and available premium options such as leather upholstery and upgraded audio systems. The CX-5 generally provides more advanced features as it is a higher-end model, including additional driver-assistance features and luxury-oriented options.
Price
Mazda CX-30 is typically priced lower than the CX-5, making it more affordable for budget-conscious buyers. This car starts at $22,950. Mazda CX-5 is larger and offers more features. The 2023 Mazda CX-5 starts at $26,700, which is an average price for the class. it tends to have a higher starting price compared to the CX-30.
Final Words
Ultimately, the choice between the Mazda CX-5 and Mazda CX-30 depends on your priorities. If you prioritize space, power, and a more luxurious experience, the CX-5 might be a better fit. On the other hand, if you value maneuverability, affordability, and more compact size, the CX-30 could be the right choice. Consider test-driving both models to get a better sense of their driving dynamics and features before making your decision.