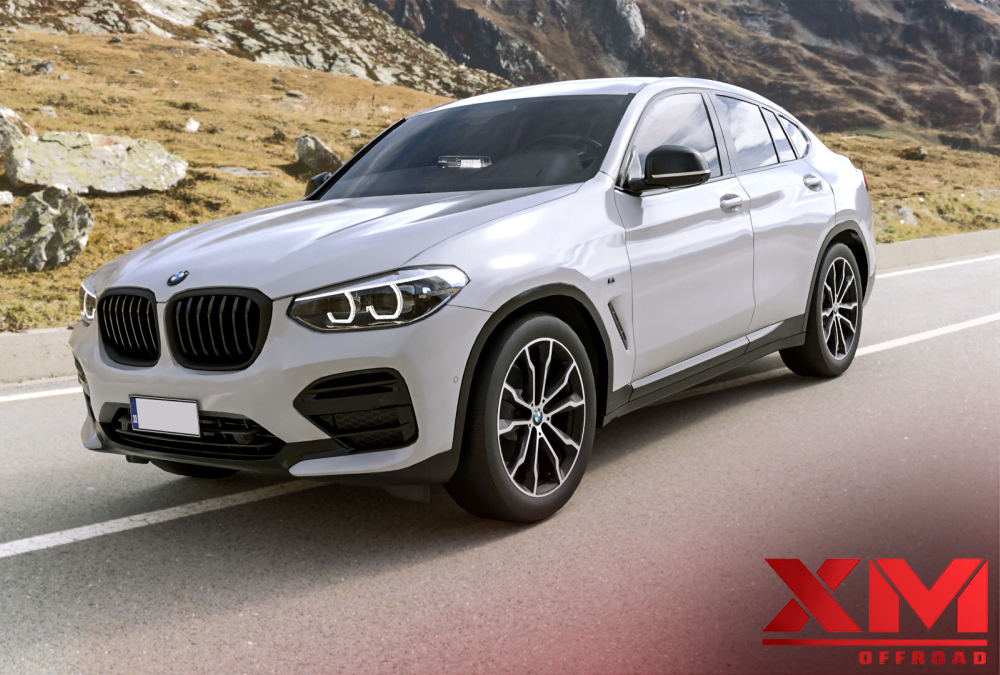 How to Update the Wheels and Tires of the 2018 BMW X3 M40i
The 2018 BMW X3 M40i stands as an epitome of excellence in the luxury compact SUV segment. Combining sleek design, impressive performance, and cutting-edge technology, this vehicle showcases BMW's commitment to delivering an unparalleled driving experience. In this article, we will tell you How to update the Wheels and Tires of the 2018 BMW X3 M40i and the key features and specifications that make the 2018 BMW X3 M40i a standout option for automotive enthusiasts.
Key Features of the 2018 BMW X3 M40i
Exterior Design
The 2018 BMW Xthe 3 M40i exudes an air of sophistication with its bold yet elegant exterior design. The signature BMW kidney grille takes center stage, flanked by sleek LED headlights that provide excellent visibility. The sculpted lines and aerodynamic contours contribute to the vehicle's athletic stance, emphasizing its sporty character. The rear end features LED taillights, a dual exhaust system, and a subtle roof spoiler, which further enhance the X3 M40i's overall aesthetic appeal.

Interior Comfort
The M40i's driving experience is so all-encompassing that it's simple to overlook the package's abundance of everyday friendliness. BMW extended the wheelbase by 2.2 inches while updating the X3 for 2018, which helped ostensibly increase backseat space. Because of the boxy, recognizable design of the X3, headroom is excellent even with the M40i's standard huge sunroof. Its impressive cargo space allows you to fit 29 cubic feet of cargo in the back and an additional 63 cubic feet when the 40/20/40 split-folding seats are folded flat. The boot is a reasonable size, and we don't anticipate any issues with four persons commuting for extended distances.

Technology
The X3 M40i boasts a host of advanced technology features, including the iDrive infotainment system with a high-resolution touchscreen display. This intuitive interface provides seamless access to various multimedia functions, navigation, and vehicle settings. Smartphone integration, Bluetooth connectivity, a 26 inch alloy rims, and a premium sound system further enhance the driving experience, ensuring entertainment and convenience at every turn.

Performance and Handling
Under the hood, the 2018 BMW X3 M40i houses a potent 3.0-liter inline-six TwinPower Turbo engine that churns out an impressive 355 horsepower and 369 lb-ft of torque. This powerplant is paired with an eight-speed automatic transmission, delivering swift and smooth gear changes. The X3 M40i can accelerate from 0 to 60 mph in just 4.6 seconds, showcasing its sports car-like performance in the SUV segment.
BMW's renowned xDrive all-wheel-drive system ensures optimal power distribution, providing enhanced traction and stability. The X3 M40i also features adaptive suspension, enabling drivers to select between different driving modes to match their preferences. Whether cruising on the highway or tackling winding roads, the X3 M40i offers a balanced and engaging driving experience that sets it apart from its competitors.
Safety Features
The 2018 BMW X3 M40i prioritizes safety, offering a comprehensive suite of advanced safety features. Standard features include a rearview camera, parking sensors, forward collision warning, automatic emergency braking, and pedestrian detection. Optional safety enhancements include adaptive cruise control, lane departure warning, blind-spot monitoring, and a 360-degree camera system. These safety features work together to provide drivers with peace of mind and help prevent potential accidents.
Update the Wheels and Tires of the 2018 BMW X3 M40i
Updating the wheels and tires on a vehicle like the 2018 BMW X3 M40i have a noticeable impact on its performance and handling characteristics on the track. The X3 needed a Bridgestone Alenza 001 RFT replacement, so we paired it with a set of lightweight OZ Hyper GTs. The HLT wheels are wrapped in sticky Michelin Pilot Sport 4S tires. Wheel specs are 20×8.5-inch front and 20×10-inch rear; Tires are 245/45/20 front and 275/40/20 rear. It's amazing what a difference small, light wheels make, but until we put the X3 through our standard tests, I didn't realize just how big. Wider and stickier tires, coupled with lightweight performance wheels, can significantly improve the X3 M40i's cornering ability.
The increased grip helps the vehicle maintain higher speeds through corners, with reduced understeer or oversteer tendencies. This results in more confidence-inspiring and precise handling. After weighing the car with the new setup, it dropped a total of 34 pounds, 8.5 pounds per corner. It wasn't much, but the X3 produced substantially better results when used with the sticky Michelins. 0-60 mph time to 4.4 seconds, 0.4 faster than stock; and the quarter-mile time at 105 mph dropped to 13.1, a correspondingly better 0.3 seconds. Extremely better braking resulted in a 9-foot reduction in the 60-0 distance to 103 feet and an addition of 0.9 seconds to the 25-second flat figure-eight time.
Better Braking Performance
update tires often have superior braking capabilities, providing shorter stopping distances due to enhanced traction. The increased grip allows the vehicle to effectively transfer braking force to the road, enabling later and harder braking into corners.
Visual Appeal
Improve wheels can also enhance the aesthetic appeal of the X3 M40i. They often come in more aggressive designs, finishes, and sizes, giving the vehicle a sportier and more customized look. For comparison, the 25.0 is 0.1 seconds quicker than the 2018 WRX STI, 2011 X6M, 2008 Mitsubishi Evo X, and 0.1 seconds better than the 2007 Ferrari 599 GTB, 2009 911 Carrera S, 2009 911 Carrera K01. It moves quickly. They were both shared by our test group. X3 "launches hard, shifts very quickly, and maintains trap speeds, so no heat soak," claims road test editor Chris Walton. The 2018 BMW X3 M40i costs £51,705 new.
Conclusion
The 2018 BMW X3 M40i embodies the perfect fusion of luxury, performance, and technology. With its stunning design, spacious interior, and powerful engine, it captivates both drivers and passengers alike. The seamless integration of advanced technology and safety features further enhances the overall driving experience, making the X3 M40i a top choice in its segment. Whether you're seeking a vehicle for daily commutes or thrilling weekend getaways, the 2018 BMW X3 M40i excels in every aspect. Its combination of power, luxury, and performance sets it apart from the competition, solidifying its place as one of the most desirable luxury compact SUVs on the market.
Read Also: Mazda CX-5 Vs Mazda CX-30: Which is Better for You?
FAQs
Q1) What Differs the X3 from the X3 M40i?
Compared to the X3, the M40i feels incredibly distant. A quicker steering rack and wider, more aggressive tires also help (albeit the M40i has lower profile tires). I believe the ride height to be the same, so don't assume your X3 won't require some sort of lowering springs.
Q2) What is the X3 M40i's Top Speed Without a Limiter?
One is that it moves quickly. Two, it moves quite quickly. Third, its top speed of 250 km/h is actually surpassed by it, although being electrically limited. Consequently, the X3 M40i in the video most likely had its top speed limiter lifted, allowing it to reach 260 km/h.
Q3) Does Having Improved Wheels and Tires on a BMW X3 M40i Make a Difference?
Recently, Motor Trend upgraded the wheels and tires on their BMW X3 M40i long-term test car to determine if it improved performance and enjoyment. It turned out that the upgrade was a tremendous improvement.