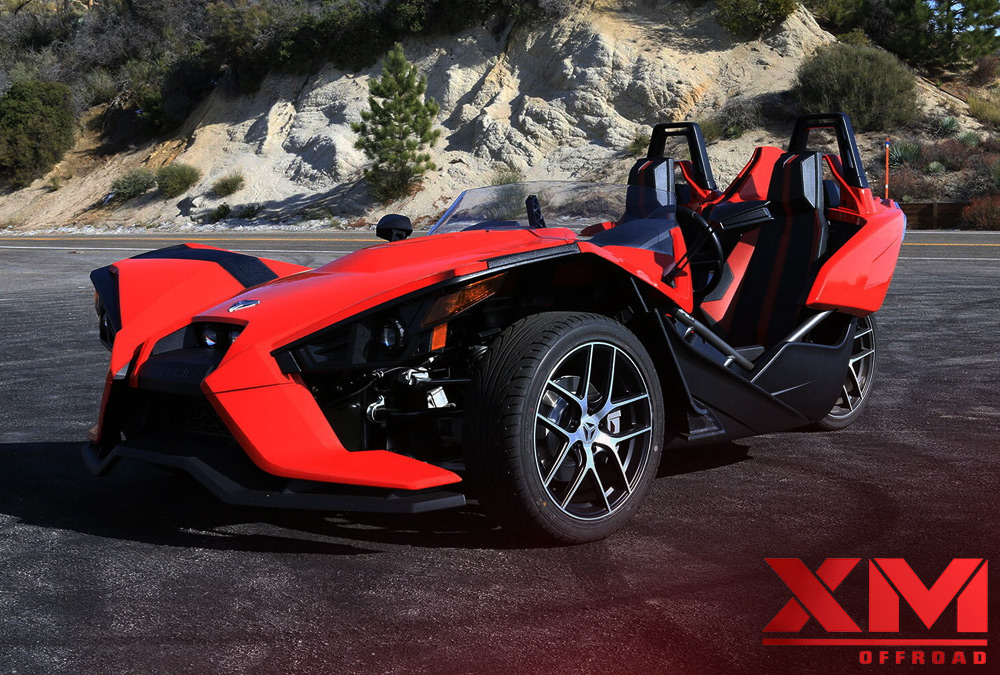 10 Best Mean-Looking Custom Polaris Slingshots
Polaris Slingshots is a three-wheeled motorcycle. It is a vehicle that who re-introduced in 2014. As soon as it came, it made quite an impression and divided opinions on it. It is a sports car that feels like a motorcycle when you sit in it. It may have more wheels than most motorcyclists use. If you are unfamiliar with the Polaris Slingshot, let us give you some essential information here.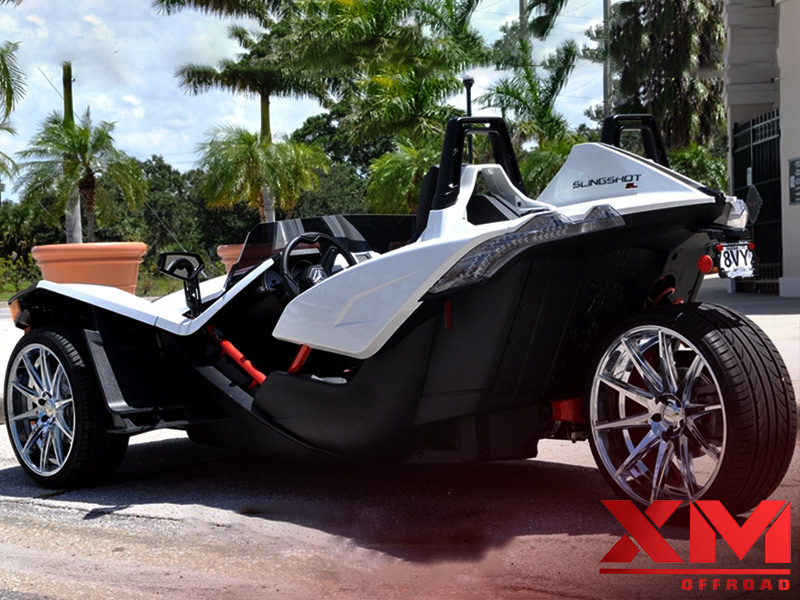 What are Polaris Slingshots?
The Polaris Slingshot is a three-wheeled motorized vehicle. Its first edition of the model was introduced in 2014 as a 2015 model. The Slingshot is manufactured by Polaris Industries in the United States (Alabama). The makers of this vehicle claim that "It's a three-wheeled motorcycle!"
1.      The Auto Firm Yoenis Céspedes Custom
The auto firm is based in Miami and has built many incredibly customized rides. But things got serious for the company when the company received an invitation from New York Mets outfielder Yoenis Cespedes to work on his Polaris Slingshot. They gave the car a completely new look and style. He changed a lot of the car and improved its aerodynamics. He was given a brand new paint style that is usually adequate. It also gave the engine a serious tune, giving it a hydraulic suspension system, Avorza sound system, and full LED lighting. Package and a turbo kit to top it off.
2.      Alpha Powersports Turbo LS3 Engine Polaris Slingshot
Polaris has always offered a great riding experience. But you can imagine that you can use a little more power. How about when they called Alpha Powersports, and they took out the old engine and installed a new Chevrolet LS3 Crate engine? The standard Slingshot's engine is already great, with its 2,400cc. But now it gets a 6,200cc engine that gives you 430 hp. In addition, they added custom engine mounts, a new automatic transmission،, custom bodywork, an automatic shifter system, adjustable hydraulic ride height suspension, and more.
3.      The Bullet Speed & Design Four Wheeler
Polaris thought of changing the Speed ​​End design into something special, adding another wheel. It might sound like sacrilege, but it certainly puts it on par with modern supercars. One good thing is that the company added the wheel without any drilling, cutting, or fabrication, and it is all made with bolts. The car has a push rod/rocker IRS suspension, a rear differential from Infiniti, a drive system built by Speed ​​& Design, Yamaha R1 shocks with piggyback reservoirs, or the more advanced Billet Hyperpro 461 shock option. And more billet aluminum parts you use. Can you ever imagine?
4.      The SSV Works Spitfire's Revenge
SSV Works has worked hard on all fronts to outdo itself and excel. This Slingshot is called 'Spitfire's Revenge. It was commissioned exclusively by Pilaris himself and inspired by WW2 aircraft. It looks amazing, but that's not all; there's much more under that incredible paint job. SSV Works is known for its high-end audio systems, so they also gave the Slingshot one. If you don't like three-wheelers, you have to respect them for the amount of work they do.
5.      "Orlando Magic" Polaris Slingshot
Most of the Polaris Slingshot enthusiasts are located in Florida. At this point, one of them used another Floridian-related vehicle, in this case, the Orlando Magic NBA team, as inspiration. Of course, which changed its paint scheme, and it was painted mostly blue and black to match the NBA team. It features new custom-stitched seats and the Orlando Magic logo plastered over them. Its 20-inch rims and wheels got a makeover, meaning it got a custom LED lighting kit. What topped it off with a set of cool custom Orland Magic Puddle Projector Lights?
6.      Sling Street Slingshot X for Tanner Foust
Daytona Bike Week was honored to host this amazing custom build from Slingshot. It was specially designed for an event. The original purpose of this custom build was to improve its key feature performance. It means the standard engine had to be removed, and a new Slingshot X now gives you 400 hp. It provides a lot of power to the three-wheeler. Great HRE wheels fitted with Continental tires.
7.      The MC Customs "Vellano"
Based in Miami, Florida, MC Customs is considered one of the best custom car companies in the country. As the name suggests, they usually dislike building the cars they want to work. They certainly didn't do anything wrong with it. If you get the point, they improve the Slingshot on all fronts and try bringing it as close to a luxury car as possible. Its understated, elegant, and charming style makes it look like it could be parked in a rich man's garage. What makes this custom build stand out is the use of Vellano Forged Wheels. Installing a set of MC Customs VM31 Monoblock wheels is quite different from the Vellano, such as a stunning gloss back with three 22″ units and a color-matched white finish paint job for this Slingshot.
8.      The SSV Works Silver Surfer
This stunning custom build is known as the "Silver Surfer" and was designed by the previously mentioned SSV company. This Side by Side vehicle works in a small Oxnard, California workshop. This model is made in a very elegant way that is eye-catching. It has two badass 6.7″ speakers and dual 10″ subwoofers behind the seats that can easily control via a Bluetooth media controller. In addition, it features TBM Racing brakes, Motegi MR120 wheels, a steering wheel and hub from Assault Industries, Michelin Pilot Tires, and a stunning chrome wrap from Proline Wraps.
9.      The Bob Fehan Motorsports Kid Rock SS-R Concept
Polaris and Detroit's Bob Fehan Motorsports teamed up to create this amazing machine, which was a tribute to Kid Rock. What gave this Slingshot some incredible mods, including a fancy turbocharger? The turbocharger system on the "SS-R" is an intercooler unit that now powers the Slingshot's standard 2.4-liter powerplant to give you an amazing 400 hp to the rear 17 inch rims wheels. Of course, this extra power required additional engineering, so we installed some road race suspension upgrades to give you an even better riding experience. In addition, the car also received a Baler lighting system, an incredible wing spoiler, and a custom-built carbon fiber body mill.
10. Gatorwraps Iron Man Polaris Slingshot
Most vehicles incorporate both aesthetics and performance with custom builds, but this is not the rule. Sometimes changing the shape as needed is enough. The Slingshot is already eye-catching and turns heads, but this Iron Man-inspired custom build has pulled necks. It's easy to go the route of a vehicle like Batman, but we're glad they decided to go for it, and we think they did an amazing job that we'll appreciate.
Related FAQs
What is the Best Polaris Slingshot to Drive in 2021?
The best Polaris Slingshot to drive in 2021 is the Slingshot R Limited Edition, and we will tell you why. This Polaris Slingshot will give you the experience of riding a Porsche 914. Only slightly lower. RELATED: Polaris Unveils RZR Pro XP Rockford Fosgate Lineup Boasting Insane Sound Systems.
How Much is a Polaris Slingshot?
How much does a Polaris Slingshot cost? The base level Slingshot S starts at just below $20k. The Slingshot SL is priced at $25,499, the Slingshot SLR is at $28,999, and the range-topping SLR Grand Tourer is priced at $29,500.
Final Thoughts
Polaris slingshots are mostly bikes with three or more wheels for riders. And less than a conventional car, the Badass Slingshot is a weapon you can sit on and enjoy a great ride.