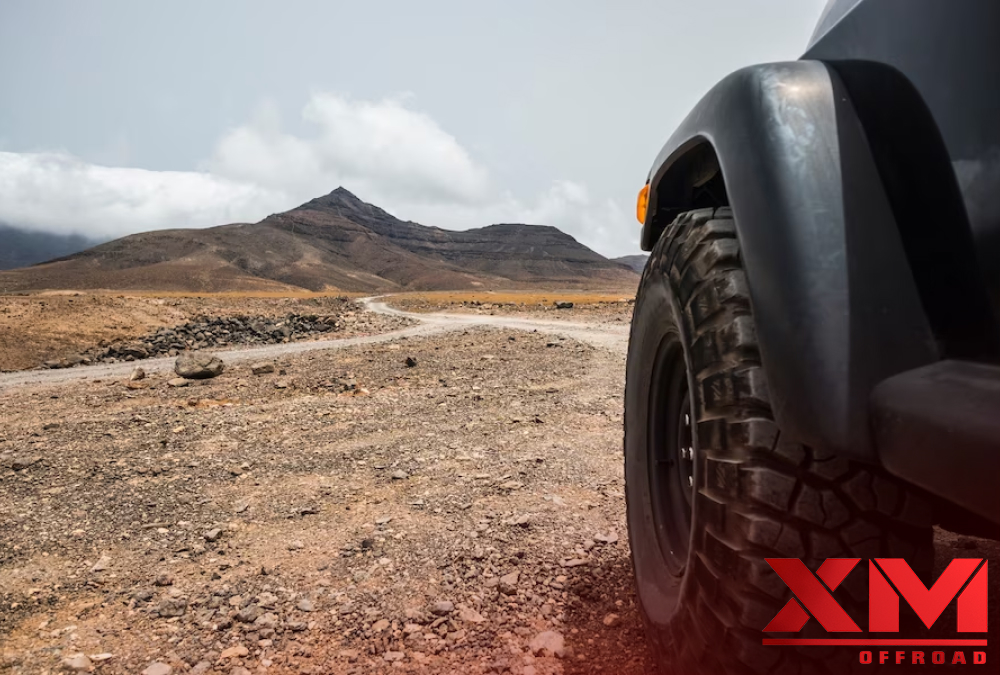 20-Inch Rims, Limitless Adventures: The Top 10 All-Terrain Tires of 2023
If you're an avid off-roader or someone who loves tackling diverse terrains, then having the right all-terrain tires is crucial for ensuring a smooth and confident ride. Your 20-inch rims demand tires that can handle various surfaces while providing excellent traction and durability. In this blog, we'll explore the top 10 best all-terrain tires for 20-inch rims in 2023, so you can equip your XM Off-road rims or 20-inch alloy rims with the perfect match.
To make the most informed decision when choosing all-terrain tires for your 20-inch rims, let's delve a bit deeper into the key features and benefits of some of the top picks:
BFGoodrich All-Terrain T/A KO2:
Due to its great off-road performance and strong build, the BFGoodrich All-Terrain T/A KO2 is a favorite among off-road aficionados. Its innovative tread design, which includes interlocking shoulder lugs, provides excellent traction on loose surfaces like gravel and dirt. The tire's resilience is strengthened further by its thick sidewalls, which make it resistant to punctures and cuts. Furthermore, the KO2 has good on-road performance and a quiet ride, making it suited for daily driving as well.

Goodyear Wrangler All-Terrain Adventure with Kevlar:
With Kevlar-infused sidewalls, the Goodyear Wrangler All-Terrain Adventure boasts excellent puncture resistance, perfect for handling rough terrains and sharp objects. Its optimized tread design ensures remarkable off-road grip, while its performance on snow and ice is equally commendable. For those who use their vehicles for both off-road and on-road purposes, this tire strikes a fine balance, providing comfort and quietness during regular driving.

Cooper Discoverer AT3 XLT:
Built to tackle challenging terrains, the Cooper Discoverer AT3 XLT features an aggressive tread pattern that excels in mud, dirt, and snow. Its cut and chip-resistant compound adds to the tire's durability, ensuring it can withstand harsh conditions and rocky trails. Despite its ruggedness, the AT3 XLT delivers a smooth and stable ride on highways, making it suitable for all-around driving.

The Falken Wildpeak A/T3W is a great choice for those seeking all-season capabilities and reliable off-road performance. Its 3D sipes enhance traction on snow and icy roads, while the silica-rich compound ensures consistent grip in various weather conditions. Moreover, its long-lasting tread life means you won't have to worry about replacing them anytime soon.
Toyo Open Country A/T III:
Designed to excel in both on-road and off-road driving, the Toyo Open Country A/T III delivers a smooth and quiet ride while maintaining excellent traction on diverse terrains. The tire's sidewalls are reinforced for added protection, making it durable and resistant to damage. It's a solid option for those who require versatility without compromising on performance.
The Nitto Ridge Grappler stands out as a hybrid tire that combines all-terrain and mud-terrain characteristics. Its unique tread pattern provides exceptional off-road traction, and the reinforced block foundation adds stability and durability. On the road, the tire remains relatively quiet and offers a comfortable ride, catering to drivers who seek both off-road capability and on-road comfort.
For light trucks and SUVs, the Michelin LTX A/T 2 offers top-notch all-weather performance with its advanced tread design. It delivers excellent traction on wet and dry surfaces while maintaining a comfortable and quiet ride on highways. With a focus on longevity, this tire is an excellent investment for those who prioritize durability and reliability.
The Hankook Dynapro AT2 is built to handle rugged terrain with its aggressive tread design and stepped block edges for improved grip on mud and snow. Its two-ply sidewall construction adds extra puncture resistance, making it ideal for off-road adventures. Despite its toughness, the Dynapro AT2 delivers a smooth and stable ride on paved roads.
Offering durability and performance, the General Grabber A/TX features a robust construction to withstand off-road challenges. This tire provides a comfortable and quiet ride for everyday driving while still delivering impressive performance in light snow and harsh conditions. With its affordable price point, it's a solid choice for budget-conscious adventurers.
Pirelli Scorpion All Terrain Plus:
The Pirelli Scorpion All Terrain Plus is a versatile tire designed for all-terrain performance. Its reduced road noise and smooth ride make it a comfortable choice for regular driving. The tire's tread pattern provides excellent traction on various surfaces, making it well-suited for diverse off-road adventures.
As you choose the best all-terrain tire for your 20-inch rims, consider your specific driving needs and the conditions you'll encounter most frequently. Always prioritize safety, performance, and durability, so you can enjoy your off-road excursions with confidence.
When selecting the right all-terrain tire for your XM Off-road rims or 20 inch alloy rims, consider factors like tread design, sidewall strength, and overall performance in different conditions. Remember that proper tire maintenance and regular rotations will further extend the life of your tires and ensure optimal performance.
Conclusion:
In conclusion, investing in a set of high-quality all-terrain tires will enhance your vehicle's capability to conquer various terrains with confidence. Choose from the top 10 options listed above, and you'll be ready for any adventure that comes your way.
Each tire mentioned above has its unique features and strengths, catering to different preferences and driving styles.
Read Also: Matching 33-Inch Tires to 20-Inch Rims: Is It Doable?
Now, get out there and explore the great outdoors with the assurance that you're equipped with the best all-terrain tires for your 20-inch rims!
FAQs
Q1) How did you select the top 10 A/T tires for 20-inch rims in 2023?
The selection process for the top 10 A/T tires involved comprehensive research, considering factors like customer reviews, professional assessments, tire performance on different terrains, durability, and manufacturer reputation. Only the most highly rated and well-regarded tires were chosen to ensure quality and reliability.
Q2) What are the benefits of using A/T tires on my vehicle?
A/T tires offer several advantages, including excellent traction on various surfaces, enhanced off-road capabilities, improved handling on wet and dry roads, reduced road noise, and extended tread life due to their durable construction. These features make them ideal for outdoor enthusiasts, adventurous drivers, and those living in regions with diverse weather conditions.
Q3) Can I use A/T tires year-round, including in snowy conditions?
A: Yes, many A/T tires are designed to handle snowy and icy conditions. They typically come with a snowflake symbol on the sidewall, indicating that they meet the industry's severe snow service requirements. However, it's essential to consider the specific tire model's snow performance and the severity of your winter weather before choosing A/T tires for year-round use.
Q4) Will installing A/T tires affect my vehicle's fuel efficiency?
A: Compared to highway or touring tires, A/T tires may have a slightly lower fuel efficiency due to their more aggressive tread pattern. However, advancements in tire technology have minimized this gap. Choosing A/T tires with good rolling resistance and fuel-efficient design can help mitigate any noticeable impact on your vehicle's fuel economy.
Q5) Are A/T tires suitable for everyday commuting and highway driving?
Yes, A/T tires are designed for versatile use, making them suitable for everyday driving, including highway use and city commuting. They deliver a smooth and comfortable ride on paved roads while maintaining the ability to handle light off-road excursions and challenging terrains.