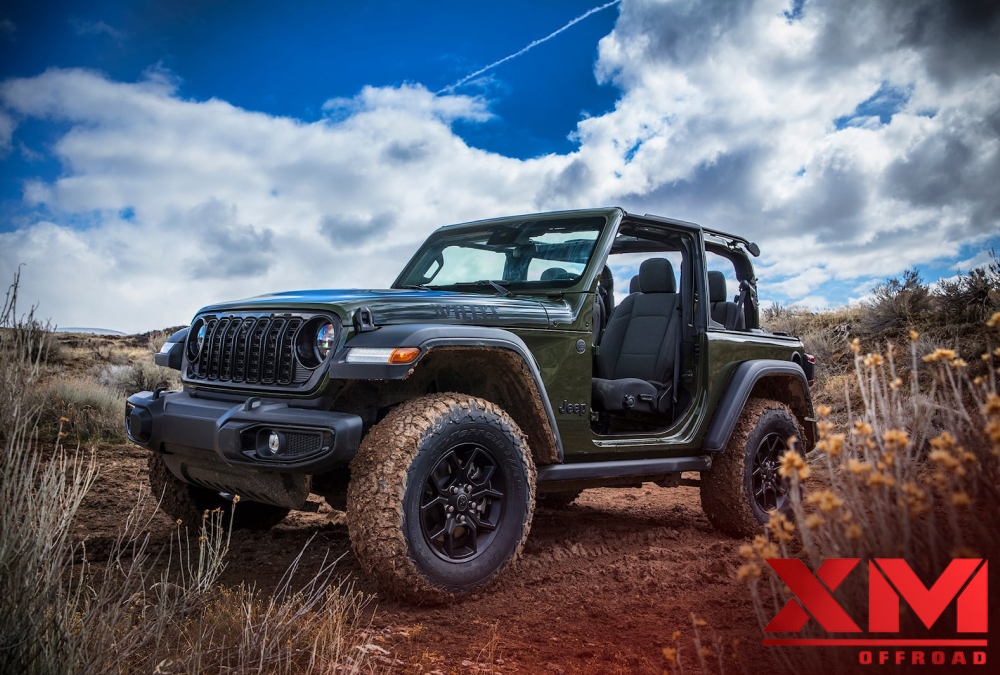 First Drive: Discovering the All-New 2024 Jeep Wrangler – Unmatched Comfort and Supreme Capability
The highly anticipated 2024 Jeep Wrangler has finally hit the road, and it's time to dive into its impressive features and enhancements. As a legendary off-road vehicle, the Wrangler has always been known for its rugged capabilities. However, the 2024 model takes it up a notch, offering not only increased comfort but also unparalleled off-road prowess. In this first drive review, we'll explore the key improvements that make the 2024 Jeep Wrangler the ultimate adventure companion.
The design of the Jeep Wrangler has evolved over the years, but it has always retained its iconic, boxy silhouette. The 2024 model maintains this timeless appeal while incorporating notable changes to its exterior. These updates contribute to improved aerodynamics and overall body enhancements, resulting in a more refined and modern appearance. Furthermore, the addition of advanced lighting technology ensures better visibility on and off the road, enhancing safety and aesthetics.

Familiar Styling, Timeless Appeal:
The 2024 Wrangler retains its signature boxy shape and iconic seven-slot grille, staying true to its heritage. It's an unmistakable design that has captivated Jeep enthusiasts for generations.
B. Subtle Upgrades Enhance the Overall Aesthetics:
While the exterior remains true to its roots, the 2024 Wrangler incorporates subtle upgrades that give it a more modern and refined look. These include redesigned LED headlights, sleeker taillights, and available body-color fender flares.
C. Attention to Detail and Quality Craftsmanship:
Jeep has paid meticulous attention to detail, ensuring that the 2024 Wrangler exudes quality craftsmanship. From the precisely aligned body panels to the durable exterior paint, every aspect of the vehicle reflects Jeep's commitment to excellence.
Interior Comfort and Technology
Step inside the 2024 Jeep Wrangler, and you'll be greeted by an upgraded interior that exudes comfort and sophistication. Premium materials and finishes elevate the overall ambiance, creating a more upscale feel. The seating and ergonomics have also been enhanced, providing better support during long drives or off-road adventures. The infotainment system offers seamless connectivity, allowing you to stay connected and entertained throughout your journey. Additionally, the inclusion of advanced driver-assistance systems (ADAS) enhances safety and driver confidence.

Spacious Cabin with Improved Ergonomics:
The 2024 Wrangler offers a comfortable and roomy interior, accommodating both driver and passengers with ample legroom and headroom. The improved ergonomics ensure a more relaxed and enjoyable driving experience, even on long journeys.
Premium Materials and Enhanced Finishes:
Jeep has raised the bar when it comes to interior quality. The 2024 Wrangler boasts premium materials and refined finishes throughout the cabin, including soft-touch surfaces, leather-trimmed seats, and available wood accents, adding an air of sophistication to the vehicle's rugged character.
C. Upgraded Technology and Infotainment Systems:
The 2024 Wrangler is equipped with an array of advanced technology features, including a user-friendly infotainment system with a responsive touchscreen display, smartphone integration, and available premium audio options. The intuitive controls and seamless connectivity keep you connected and entertained wherever your adventures take you.
Performance and Capability
When it comes to performance, the 2024 Jeep Wrangler does not disappoint. With a range of engine options, including powerful V6 and turbocharged four-cylinder choices, the Wrangler delivers increased power and torque. Whether you're tackling rough terrains or cruising on the highway, the Wrangler offers impressive acceleration and performance. Additionally, the 2024 Wrangler boasts impressive towing and payload capacity, making it a versatile companion for all your hauling needs.

Jeep has always prioritized safety, and the 2024 Wrangler continues this tradition. The vehicle is equipped with a comprehensive set of standard and optional safety features designed to protect occupants in various scenarios. From advanced airbag systems to cutting-edge driver-assistance technologies, the Wrangler offers peace of mind on and off the road. Additionally, it has undergone rigorous crash tests and received favorable ratings, reinforcing its commitment to passenger safety.
The 2024 Jeep Wrangler delivers an exceptional driving experience both on and off the road. On paved surfaces, the Wrangler showcases improved performance and handling, providing a smoother and more controlled ride. When venturing off the beaten path, its off-road prowess shines through. With robust suspension enhancements and terrain management systems, the Wrangler conquers challenging landscapes with ease. Moreover, the insulation and cabin quietness has been enhanced, ensuring a comfortable and serene environment for all occupants.
In a market filled with capable off-road vehicles, the 2024 Jeep Wrangler stands out as a top contender. The Wrangler offers unique features and advantages that make it the go-to choice for adventure enthusiasts. The incorporation of XM Off-road rims enhances its off-road capabilities, providing better traction and stability. Additionally, the Wrangler's iconic design, customizable options, and dedicated community of enthusiasts set it apart from the competition.
The 2024 Jeep Wrangler comes in a variety of trim levels, allowing buyers to choose the one that suits their preferences and budget. From the base Sport model to the range-topping Rubicon, each trim level offers a different set of features and capabilities. The pricing structure is competitive, considering the Wrangler's renowned capabilities and upgraded comfort. Buyers can find excellent value in the lower trim levels, while those seeking advanced off-road features may opt for higher trims.
Conclusion
The 2024 Jeep Wrangler is a remarkable vehicle with 20 inch staggered wheels that combines increased comfort with unparalleled off-road capabilities. Its updated design, enhanced interior, and advanced technology make it a standout choice in its segment. With improved performance, safety features, and a remarkable driving experience, the Wrangler continues to dominate the off-road landscape. Whether you're seeking thrilling adventures or everyday comfort, the 2024 Jeep Wrangler is the ultimate companion, offering the best of both worlds.
Read Also: Discuss Top and the Best Rims for Mercedes-Benz Cars
So, if you're in the market for a vehicle that is more comfortable and most capable, look no further than the 2024 Jeep Wrangler with its impressive enhancements and unmatched off-road prowess.
FAQs
Q1) What is the 2024 Jeep Wrangler First Drive Review all about?
The 2024 Jeep Wrangler First Drive Review provides an in-depth analysis of the latest iteration of the iconic off-road vehicle. It highlights the enhanced comfort and increased capabilities of the 2024 model, giving potential buyers valuable insights into its performance and features.
Q2) What are the key improvements in the 2024 Jeep Wrangler?
The 2024 Jeep Wrangler boasts several notable improvements over its predecessors. One of the main highlights is its enhanced comfort, thanks to upgraded interior materials and improved seating. Additionally, it offers increased capability with advanced off-road features such as improved suspension and enhanced four-wheel drive systems.
Q3) How does the 2024 Jeep Wrangler perform off-road?
The 2024 Jeep Wrangler continues to excel in off-road capabilities. It features robust four-wheel drive systems, solid axles, and impressive ground clearance, allowing it to tackle challenging terrains with ease. The updated suspension enhances stability and articulation, ensuring a smoother ride and improved control in rugged environments.
Q4) Are there any changes to the interior of the 2024 Jeep Wrangler?
Yes, the interior of the 2024 Jeep Wrangler has received notable upgrades. It now offers enhanced comfort and refinement, with improved seat materials and increased passenger space. The cabin features modern technology and convenience features, including an upgraded infotainment system and advanced driver-assistance systems for a more enjoyable driving experience.
Q5) What engin#e options are available in the 2024 Jeep Wrangler?
The 2024 Jeep Wrangler provides a range of engine options to suit different preferences. It comes with a standard 3.6-litre V6 engine that delivers a good balance of power and efficiency. Additionally, there is an available 2.0-litre turbocharged four-cylinder engine for those seeking improved fuel economy, as well as a robust 3.0-litre EcoDiesel V6 engine for enhanced torque and towing capability.
Q6) Where can I find the full 2024 Jeep Wrangler First Drive Review?
You can find the full 2024 Jeep Wrangler First Drive Review on reputable automotive websites, such as car magazines, online publications, and automotive review platforms. These sources provide comprehensive insights, detailed analysis, and firsthand experiences from professional reviewers who have extensively tested the vehicle.