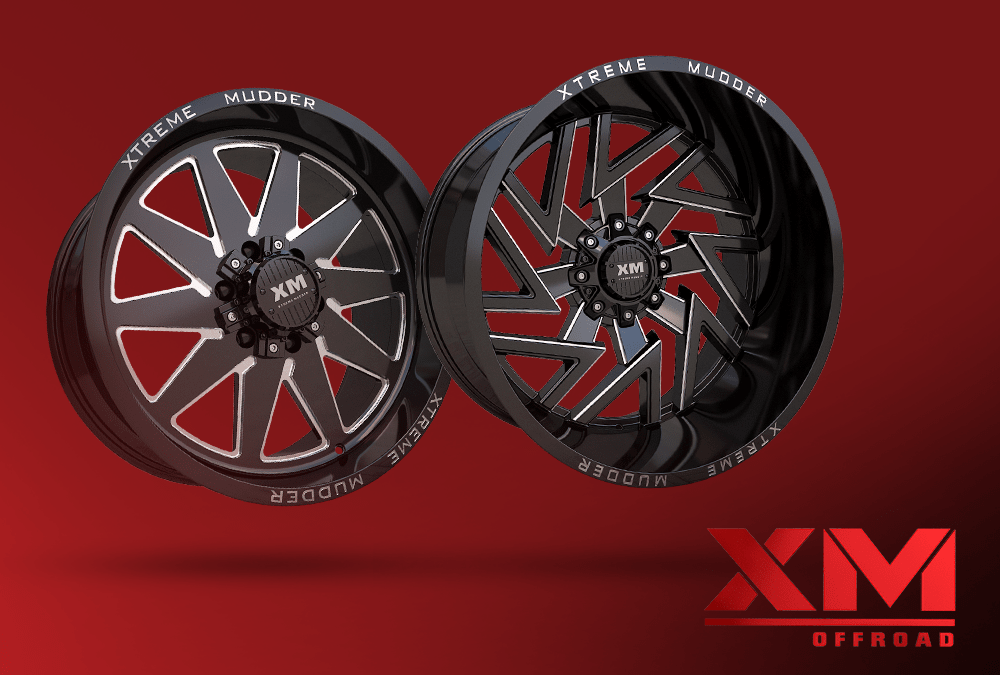 Everything You Need to Know About Black Wheels Trend
What makes a car appear to be sporty? You may even get five different responses if you ask these questions to five other people. The color of your car, in our viewpoint, does have a lot to do with its perceived sportiness. We've talked about many fantastic paint colors, but we may have overlooked one very simple color: black. Black cars can be exquisite, but we're talking about wheels here. A growing number of automakers are using black wheels to make their vehicles "sportier." Even if the rest of the car is untouched, we believe black wheels trend make cars look sportier.
Black rims have been prevalent in the automotive sector since they were first introduced. They have a distinct fan base among car enthusiasts. There's no denying that black wheels look great on your car. They make things appear a lot more appealing, and black rims do look stylish in some cases. You could get a set of black color wheels for any car, SUV, or 4×4 truck you own to make it appear even more attractive.
We frequently see cars with black rims and seriously question why only black rims? This article will go into greater detail about the popularity of wheels in black color. What you should know, however, is that they're a huge trend now more than ever.
Black rims are popular on sports cars, SUVs, and 4×4 trucks. Compact cars like the Mini Cooper and Volkswagen Golf, on the other hand, prefer black rims & wheels to silver or machined finishes. No matter what the size of the vehicle, black rims look stunning.
The Key Features of Black Rims
The use of wheels in black color has completely altered vehicles' fates. In as many words as possible, they make the car appear more enticing.
The following are the key benefits of having a set of black rims:
Make any vehicle appear sporty, luxurious, and fierce.
Give any vehicle a look it requires.
It can be used with any car color.
Any vehicle, large or small, old or new, can look fantastic with the correct black wheels.
Add the finishing touch to trucks and SUVs.
All fitments and sizes are accessible.
The market has been buzzing about black rims. They are, without a doubt, everybody's favorite, and we can bet on them. It's worth a try! Your car will no longer have to be plain and unappealing. When you get the right wheels in black color, it will completely transform the appearance of your vehicle.
How Black Wheels Trend Caught Fire?
Black wheels first appeared on high-performance vehicles such as BMW's M models. Soon after, manufacturers began to wonder, "Hey, why don't we put black alloy rims on regular models?" Whoever decided to come up with this brilliant idea should be duly rewarded for igniting an incredible trend. Black rims aren't exactly new; even the Buick Grand National had them in the 1980s. However, the craze of having them on automobiles has recently taken off. In the United States, cars have gone through phases in which the rims were silver or chrome. Those days are no longer with us. Customers are falling in love with black and dark grey wheels. We couldn't be more pleased. We adore the way they appear!
What's Amazing about Black Wheel Trend?
What's most incredible about the black wheel trend is that it's open to all types of vehicles. Black wheels look great not only on supercars but also on trucks and SUVs with perfect wheels alignment. Off-road icons like the Land Rover Defender look great with black rims. These wheels compliment any paint color and give cars a more aggressive appearance. Because blackening the wheels is a minor expense, base model vehicles can use them to conceal cost-cutting measures. Chevrolet even used them on base Camaro models from the prior generation. While these rims were not particularly attractive, painting them black improved their appearance significantly. There aren't many modern cars that don't look great with black wheels.
When black wheels first appeared on the scene, they were used as exotic cars and special edition trims. This premier association made black xm wheels instantaneously awesome, even if the design of the wheels was challenging to distinguish, particularly in low light. Nonetheless, the natural convergence of several trends in vehicle design has led to an increasing number of car owners going to opt for black alloy wheels to create the image they desire for their vehicles, regardless of model. As a result, you've most likely seen black offroad wheels on every type of car on the road today, whether it's a small car, Honda civic, sports car, truck, or SUV.
This trend is made even more suitable because painting your wheels is a simple way of giving your car a new look. Wrapping your current wheels or simply using a can of PlastiDip is far less costly than coloring or painting the rest of the vehicle if you would not want to purchase new wheels. What are your thoughts on the black wheel craze? Would you install them on your vehicle? Tell us if you agree with this automotive trend!
Black Rims and Sports Cars
Black rims could make any vehicle look attractive and appealing. Because sports cars have their fan base, black wheels make them all look even sportier than they already are!
Sports cars are designed to be strong and capable. They also require rims that can be used for this purpose. Getting the proper rim finish can draw more attention and boost your car's visibility on the street when it's in motion.
Black rims & wheels first appeared on high-end vehicles such as Mercedes, BMW, and Porsche. It all began in 2012 when luxury car manufacturers decided to put black rims on basic models. Many new wheel brands arose rapidly, and you guessed it, they began producing aftermarket black alloy wheels in all sorts of shapes. People naturally began to fit black wheels on any car maker to give it the same trim and accents.
Black Rims for Trucks and SUVs
The most intriguing and remarkable aspect of black wheels is suitable for both trucks and SUVs. If you already own a truck or SUV, this article may be helpful to you because you will now know whether or not to purchase black rims.
Trucks must have a challenging and badass appearance. If we talk about XM Wheels, their Black rims provide the necessary vehicle performance, especially for trucks and SUVs. Previously, there have been fewer appealing options from which to choose, but now, thanks to leading 4 rims brands such as Black Rock Wheels and Fuel Wheels, we get a large selection of 4 rims to choose from. Off-road wheels are available in a variety of sizes ranging from 15 to 24 inches. Those wheel brands are the most popular among truck owners. In addition, the black color complements any SUV finish (even if it is black). So, regardless of which 4×4 model you own, you could get your preferred black wheels and end up making your ride look harder.
All That Hype about Black Rims
People have gone insane for black wheels in recent years, ever since they were introduced. If you compare a black rim to any other color rim, we believe the black finish would come out on top. When it comes to buying new wheels, black wheels have been the most popular option. Nowadays, the majority of wheel shops in the USA stock primarily black alloy wheels.
To attract buyers' attention, well-known wheel brands including Fuel wheels, XM Wheels, and Black Rock wheels started adding more distinctive finishes to the black finish. Colors such as black milled, black pigmented, black machined, and hyper black are examples.
Whether your vehicle is unattractive or you want to add a touch of style to your ride, black rims could ensure success. As a result, black wheels are the most popular. The main reasons for its renown and high demand are its appearance, efficiency, and potential. The popularity of black rims is undeniable. The hype is real.
How to Clean Black Wheels?
Few things make a car stand out more than black wheels. Acquiring black custom wheels is a slight adjustment that can completely transform the look and feel of your vehicle. That is why many people choose to replace their factory car wheels with black rims & wheels.
Those with new black wheels fitted on their vehicle feel a sense of urgency to keep the wheels looking nice and clean. But, unfortunately, dust and debris show up more prominently on black wheels than on white wheels. So, how do you clean black alloy wheels?
To keep black rims clean, you must clean them regularly and remove any accumulated grime. The steps for keeping your black rims clean are outlined below.
Check what type of black wheels you have
Get a wheel specific cleaner
Spray them
Apply cleanser
Rinse it off
Black wheels are an excellent way to improve the appearance of your vehicle. Contact Xtreme Mudder Wheels today if you want to install black off road rims on your vehicle. We specialize in aftermarket wheel installation and have a team of wheel experts who are both experienced and knowledgeable.
Author Bio
Anjeeza is a mind-blowing blogger, carrying extensive experience collaborating with some of the renowned off-road wheels manufacturers. She earned a degree in marketing and advertising from New York University. Anjeeza has been writing blog posts and articles for various brand and publications. Her content ideas are innovative and exceptional to grasp audience interest.